I'm reasonably sure this is t.nigrita from my first bash on a 'virgin' VC3 square.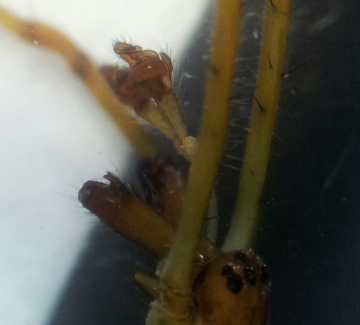 Also using LM&M (thanks for the recommendation Peter) the two cheliceral characters matched (though they don't show up well in photographs) namely the sharply pointed tooth between apothysis and "sl" and the blunt projection on posterior inner cheliceral surface. Colour initially threw me as it wasn't that dark to my inexperienced eye and I thought the wife (she is very good at finding decent spiders) had just handed me a male t.montana..
Will post more pics and can provide specimen if there is doubt.
Regards, Matt
p.s. and an adult female episinus maculipes, from good old Devon hedgerow in what looked like fairly bog standard arable countryside.