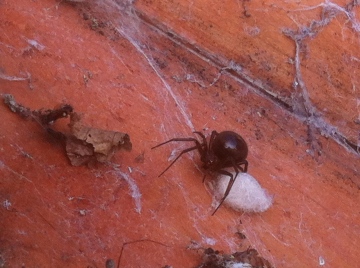 Hi
Please see attached image of an unusual spider I came across whilst disassembling a summer house in a garden in Abingdon Oxfordshire. I found it underneath the base (floor) of the summer house. There were three of the same species, and I took this photo of the lager one which was about the size of an average grape. I touched the spiders abdomen and it instantly curled into a ball to protect itself by wrapping its legs around its body. I have been intrigued as I am 33 years old and have not came across this species of spider in the UK.
Please can you identify this spider, and let me know of its bite capability. Having done a little research myself I suspect it is the False Widow (Steatoda grossa). However, I have not been able to find anything definitive to confirm this as there are quite a few different species, and it's difficult to match other images of the false widow with the attached image
Please can someone help me to identify this?
Thanks
Andy