But I'm not sure what it is! Can anyone offer any help with this please?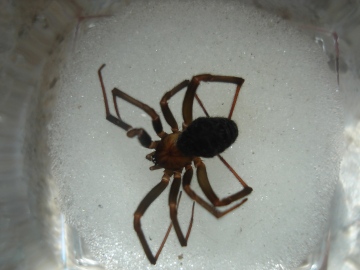 The body is about 8mm long, with a distinctly rugose entirely dark abdomen. It has 3 clawed tarsi, and looking closely at tarsi IV seems as best as I can tell to have serrated bristles on the ventral surface. I appreciate the photos are pretty rubbish, but it does have a very distinctive epigyne which you may just abut be able to make out from one of the photos. I have searched high and low in the Collins Field Guide to no avail!
I would be happy to post the specimen to someone if that would help get to an id.
Thanks,
Adam
And finally a quick plug for my blog! http://eastglamwildlife.blogspot.co.uk/