Forum
Welcome to our general Forum page. Please feel free to
post a comment
on any issue or topic area. If you upload a picture, it will be available for you to insert here with your post.
You can send a message or ask a question about British spider identification here
. If your query is about spiders from other parts of the World, please find another forum, we are unable to help. You will need to
register
and be
logged-on
to post to the forum.
Find out more
and
Help adding forum posts
. You will find some helper toolbar buttons in the add post and post editor,
as well as your most recently uploaded pictures as toolbar buttons. Click on the toolbar picture to add it to your post
.
IF YOU WANT HELP WITH IDENTIFICATION, PLEASE PROVIDE A FULL POSTCODE OR GRID REFERENCE AND DATE
of the record in your post so that it can be added to the recording scheme.
Sun 17th October 2021 11:01 by Don Matthews
possible Paroligolophus agrestis
I've been setting my moth trap within the John Muir Trust's Quinag estate near Lochinver in West Sutherland to contribute records to the wildlife list for the area. This includes trying to identify anything that ends up in the moth trap, not just the moths. This small (4mm) harvestman, which looks to my eye like
Paroligolophus agrestis
, was in the trap set at NC211252 on 12 October 2021 (2 photos of same individual). But is my tentative identification correct?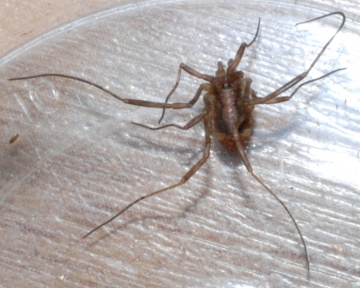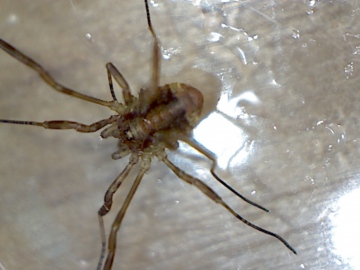 ---
Archives:
Sep 2021
Aug 2021
Jul 2021
Jun 2021
May 2021
Apr 2021
Mar 2021
Feb 2021
Jan 2021
Dec 2020
Nov 2020
Oct 2020
Sep 2020
Aug 2020
Jul 2020
Jun 2020
May 2020
Apr 2020
Mar 2020
Feb 2020
Jan 2020
Dec 2019
Nov 2019
Oct 2019
Sep 2019
Aug 2019
Jul 2019
Jun 2019
May 2019
Apr 2019
Mar 2019
Feb 2019
Jan 2019
Dec 2018
Nov 2018
Oct 2018
Sep 2018
Aug 2018
Jul 2018
Jun 2018
May 2018
Apr 2018
Mar 2018
Feb 2018
Jan 2018
Nov 2017
Oct 2017
Sep 2017
Aug 2017
Jul 2017
Jun 2017
May 2017
Apr 2017
Mar 2017
Feb 2017
Dec 2016
Oct 2016
Sep 2016
Aug 2016
Jul 2016
Jun 2016
May 2016
Apr 2016
Mar 2016
Feb 2016
Jan 2016
Dec 2015
Nov 2015
Oct 2015
Sep 2015
Aug 2015
Jul 2015
Jun 2015
May 2015
Apr 2015
Mar 2015
Feb 2015
Dec 2014
Nov 2014
Oct 2014
Sep 2014
Aug 2014
Jul 2014
Jun 2014
May 2014
Apr 2014
Mar 2014
Feb 2014
Jan 2014
Dec 2013
Nov 2013
Oct 2013
Sep 2013
Aug 2013
Jul 2013
Jun 2013
May 2013
Apr 2013
Feb 2013
Jan 2013
Dec 2012
Nov 2012
Oct 2012
Sep 2012
Aug 2012
Jul 2012
Jun 2012
May 2012
Feb 2012
Jan 2012
Dec 2011
Nov 2011
Oct 2011
Aug 2011
May 2011
Mar 2011
Dec 2010
Nov 2010
Sep 2010
latest posts