Summary for Araniella alpica (Araneae)
previous species | next species
National Distribution
Logged-on? click on dot to query records. Please note our
Terms of Use
. Double-click on map to go to region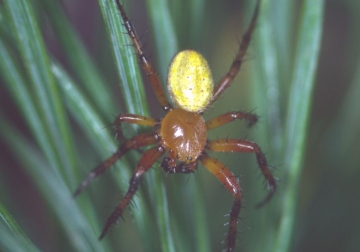 Identification difficulty rating:
4
Name: Araniella alpica
Authority: (L.Koch, 1869)
Order: Arachnida: Araneae
Family: Araneidae
National Rarity status: NR

IUCN status: EN, criteria: B2ab(ii)

Records: 22
First Record: 1800
Latest Record: 2012
1992-on hectads: 6
Pre-1992 hectads: 7
Total hectads: 11
Explore
Regional Distribution
Please log on and add a note on this species
log-on to access spider taxon report
About this species
Recorded altitude range
350m to 350m
Species text
Distribution
The spider has been recorded from a few sites in southern England. It was recorded from Great Kimble in Buckinghamshire and from the New Forest in South Hampshire early in the 20th century. More recent records are scattered in central southern England. In Europe the spider is widespread but uncommon.
Habitat and ecology
Woodland. A. alpica has been recorded from trees, particularly yew and beech. It has also been found on dogwood Cornus sanguinea, and in chalk grassland (at Melbury Down) but this was in close proximity to woodland. Mature males and females occur in May and June.
Status
The spider has undergone a major decline in area of occupancy. Although identification of Araniella spp. requires critical examination under the microscope, males at least are likely to be recognised in the field by arachnologists as having sufficiently distinctive coloration to mean that it is unlikely to be under-recorded. Records should however be confirmed by experienced arachnologists familiar with this species.
Threats
The loss of old yew and beech woodland and also of woods containing mature stands of these trees.
Management and conservation
Where woodlands in the south of England contain ancient and mature yew and beech stands management to encourage their continued presence would provide the most suitable conditions for A. alpica, but more information is needed on the ecology of this species. Half the known sites have SSSI designation, one of which is owned by the National Trust.
Text based on Dawson, I.K., Harvey, P.R., Merrett, P. & Russell-Smith, A.R. (in prep.). References


Adult Season
Adult Season Data (based on 8 records with adult season information)
Habitats
background methodology
Broad Habitat Data (based on 2 records with habitat information)
Broad subhabitat Data (based on 1 records with subhabitat information)
Structural Habitat Data (based on 1 records with structural habitat information)
no habitat detail or method data available
Recorded management for locations with Araniella alpica
Recorded substrate and hydrology for locations with Araniella alpica


Images
upload a new image
for this species
See also A-Z Species Index - A-Z Picture Index - previous species | next species