Summary for Dicranopalpus larvatus (Opiliones)
previous species | next species
National Distribution
Logged-on? click on dot to query records. Please note our
Terms of Use
. Double-click on map to go to region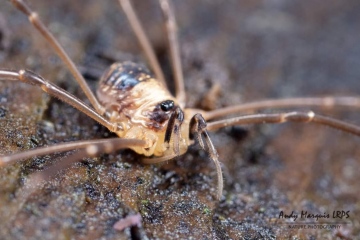 Identification difficulty rating:
3
Name: Dicranopalpus larvatus
Authority: (Canestrini, 1874)
Order: Arachnida: Opiliones
Family: incertae sedis
Records: 13
First Record: 2020
Latest Record: 2021
1992-on hectads: 10
Pre-1992 hectads: 0
Total hectads: 13
Explore
Regional Distribution
Please log on and add a note on this species
log-on to access spider taxon report
About this species
Recorded altitude range
Species text
Distribution
The species has been recorded in the British Isles from Scilly Isles, Guernsey and the Isle of Wight. More recently it has been recorded in England from Cornwall, Dorset, London, Norfolk and as far north as York.
Habitat and ecology
This species seems to be commonly found in lowland areas and is not restricted to higher altitudes like some other European Dicranopalpus species (Wijnhoven and Martens, 2019).
Unusually, this species matures from autumn to spring with records of adults dated around March. There is limited information about the habitat types this species occupies but so far it has been recorded from a wide variety. These include coastal areas, woodlands and managed grassland areas such as gardens and cemeteries. Within these habitats, this species has been found predominantly in leaf litter and under stones but also in pitfall traps, under bark and from low vegetation.
It is short-legged compared to other Dicranopalpus species. Males have a dark mask around the eyes with a black patch on the abdomen, females have irregular dark patches on carapace and abdomen. Examination of the penis and pedipalps can confirm D. larvatus, as the morphology of these features is species-specific (Wijnhoven and Martens, 2019).
Status
As species is a new arrival to the British Isles, its status and whether it has become established in Britain is yet to be determined (Davidson, 2019). This species is otherwise found in Italy and is considered rare.
Original author of profile: Meg Skinner
References
Davidson, M.B., 2019. The British harvestman (Opiliones) fauna: 50 years of biodiversity change, and an annotated checklist. Arachnology, 18(3), pp.213-222.
Wijnhoven, H. and Martens, J., 2019. An enigmatic European harvestman (Opiliones): new record and redescription of Dicranopalpus larvatus (Canestrini, 1874). Arachnology, 18(1), pp.1-6. References


Adult Season
Adult Season Data (based on 16 records with adult season information)
Habitats
background methodology
Broad Habitat Data (based on 1 records with habitat information)
no subhabitat data available
Structural Habitat Data (based on 10 records with structural habitat information)
Habitat Detail and Method (based on 10 records with habitat detail and method information)
Recorded management for locations with Dicranopalpus larvatus
Recorded substrate and hydrology for locations with Dicranopalpus larvatus


Images
upload a new image
for this species
See also A-Z Species Index - A-Z Picture Index - previous species | next species