Summary for Ero tuberculata (Araneae)
previous species | next species
National Distribution
Logged-on? click on dot to query records. Please note our
Terms of Use
. Double-click on map to go to region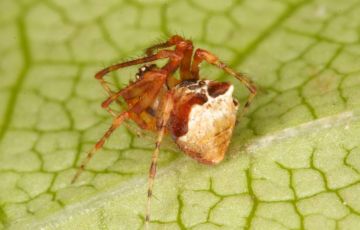 Identification difficulty rating:
3
Name: Ero tuberculata
Authority: (De Geer, 1778)
Order: Arachnida: Araneae
Family: Mimetidae
National Rarity status: NS

IUCN status: LC

Records: 165
First Record: 1900
Latest Record: 2020
1992-on hectads: 33
Pre-1992 hectads: 34
Total hectads: 56
Explore
Regional Distribution
Please log on and add a note on this species
log-on to access spider taxon report
About this species
Recorded altitude range
0m to 150m
Species text
Distribution
The species is widespread but very locally distributed in England south-east of a line from the Severn to the Wash. It is widespread in western and central Europe as far north as Denmark, but has not been recorded from Ireland.
Habitat and ecology
This pirate spider is found mainly on mature heathland on tall heather and gorse. It has also been recorded from younger stages of heathland succession as well as a number of other habitats including fens and buildings. It searches out the webs of other spiders and invades them in order to feed on the rightful occupants. Adults occur in late summer and autumn, but have been recorded until March (Merrett 1990).
Status
A decline of more than 30% is suspected based on a decline in area of occupancy. Population severely fragmented.
Threats
The main threats to this species arise from loss of its heathland strongholds to agriculture, forestry, housing and industrial developments (Merrett 1990).
Management and conservation
Although the species appears to be heavily dependent on mature heather, rotational management is necessary to prevent scrub invasion and to maintain all seral stages of heather.
Text based on Dawson, I.K., Harvey, P.R., Merrett, P. & Russell-Smith, A.R. (in prep.). References


Adult Season
Adult Season Data (based on 69 records with adult season information)
Habitats
background methodology
Broad Habitat Data (based on 52 records with habitat information)
Broad subhabitat Data (based on 2 records with subhabitat information)
Structural Habitat Data (based on 31 records with structural habitat information)
Habitat Detail and Method (based on 42 records with habitat detail and method information)
Recorded management for locations with Ero tuberculata
Recorded substrate and hydrology for locations with Ero tuberculata


Images
upload a new image
for this species
See also A-Z Species Index - A-Z Picture Index - previous species | next species