Summary for Maro lepidus (Araneae)
previous species | next species
National Distribution
Logged-on? click on dot to query records. Please note our
Terms of Use
. Double-click on map to go to region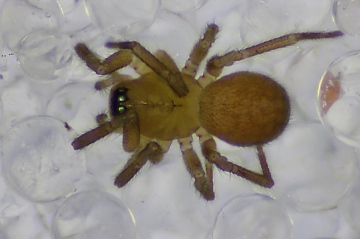 Identification difficulty rating:
4
Name: Maro lepidus
Authority: Casemir, 1961
Order: Arachnida: Araneae
Family: Linyphiidae
National Rarity status: NR

IUCN status: EN, criteria: B2ab(ii,iv)

Records: 66
First Record: 1946
Latest Record: 2017
1992-on hectads: 5
Pre-1992 hectads: 9
Total hectads: 13
Explore
Regional Distribution
Please log on and add a note on this species
log-on to access spider taxon report
About this species
Recorded altitude range
45m to 380m
Species text
Distribution
The species has been recorded from Mid-west Yorkshire, Westmorland, Caernarvonshire, Denbighshire, and most recently Cardiganshire, Radnor and Caithness. It is also known from Belgium, Scandinavia, Germany, Switzerland, Austria and the Czech Republic.
Habitat and ecology
The spider has been found among Sphagnum in raised bogs; among wet grass and Juncus by a stream; in a sedge marsh surrounded by Sphagnum; and in rank Molinia grassland. Adults of both sexes have been taken between September and December, and males in April.
Status
Evidence suggests a major decline since the 1970s. Recorded from just three locations since 1992. Major decline of 78% (or 67%) in area of occupancy from 9 hectads prior to 1992 to 3 hectads after that date.
Threats
Commercial peat-cutting has destroyed most of the major peat-mosses in north-west England and degraded the remainder. Rusland Moss is drying out, pine is invading, and there are further drainage proposals along one side of the surviving bog.
Management and conservation
Where sites are adversely affected by drainage, pine invasion needs to be controlled and water levels raised as far as possible.
Text based on Dawson, I.K., Harvey, P.R., Merrett, P. & Russell-Smith, A.R. (in prep.). References


Adult Season
Adult Season Data (based on 13 records with adult season information)
Habitats
background methodology
Broad Habitat Data (based on 23 records with habitat information)
no subhabitat data available
Structural Habitat Data (based on 8 records with structural habitat information)
Habitat Detail and Method (based on 20 records with habitat detail and method information)
Recorded management for locations with Maro lepidus
Recorded substrate and hydrology for locations with Maro lepidus


Images
upload a new image
for this species
See also A-Z Species Index - A-Z Picture Index - previous species | next species