Summary for Marpissa radiata (Araneae)
previous species | next species
National Distribution
Logged-on? click on dot to query records. Please note our
Terms of Use
. Double-click on map to go to region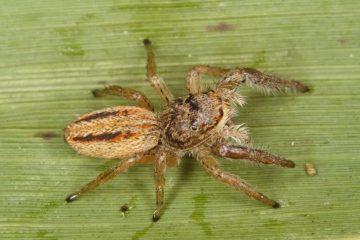 Identification difficulty rating:
3
Name: Marpissa radiata
Authority: (Grube, 1859)
Order: Arachnida: Araneae
Family: Salticidae
National Rarity status: NR

IUCN status: VU, criteria: B2ab(ii,iv)

Records: 184
First Record: 1900
Latest Record: 2020
1992-on hectads: 12
Pre-1992 hectads: 18
Total hectads: 22
Explore
Regional Distribution
Please log on and add a note on this species
log-on to access spider taxon report
About this species
Recorded altitude range
0m to 35m
Species text
Distribution
Although this species is almost confined to the fenland areas of Norfolk, Suffolk and Cambridgeshire, it has also been recorded from Shapwick Heath (Somerset), marshes east of Swansea (West Glamorgan) and there is an old record from Dorset. In Europe it is widespread but rather local in wet habitats generally, rather than being confined to fens.
Habitat and ecology
Generally a species which is found in open fens, where females spin a cocoon in heads of Phragmites. It is also found among lower vegetation. Adults are most abundant in May and June, but a female has been collected from litter at Chippenham Fen in October (D. Carr, pers. comm.).
Status
Marpissa radiata is widespread and may be fairly common in some of the fens of East Anglia, but is apparently absent from areas that seem suitable.
Threats
The most significant threat is loss of open fens through drainage, the detrimental effect of lower water tables across large areas of East Anglia or invasion of scrub vegetation. A high proportion of the sites where this spider has been recorded are relict fen sites, with a long continuity of habitat. As with ancient forest, once lost or severely degraded there is no quick and easy means of restoration (Bob Merritt, pers. comm.).
Management and conservation
Management should maintain open Phragmites beds by controlling scrub growth and maintenance of a surface water table are necessary. Traditional reed-bed management should be encouraged where possible.
Text based on Dawson, I.K., Harvey, P.R., Merrett, P. & Russell-Smith, A.R. (in prep.). References


Adult Season
Adult Season Data (based on 60 records with adult season information)
Habitats
background methodology
Broad Habitat Data (based on 90 records with habitat information)
Broad subhabitat Data (based on 19 records with subhabitat information)
Structural Habitat Data (based on 41 records with structural habitat information)
Habitat Detail and Method (based on 86 records with habitat detail and method information)
Recorded management for locations with Marpissa radiata
Recorded substrate and hydrology for locations with Marpissa radiata


Images
upload a new image
for this species
See also A-Z Species Index - A-Z Picture Index - previous species | next species