Summary for Pelecopsis susannae (Araneae)
previous species | next species
National Distribution
Logged-on? click on dot to query records. Please note our
Terms of Use
. Double-click on map to go to region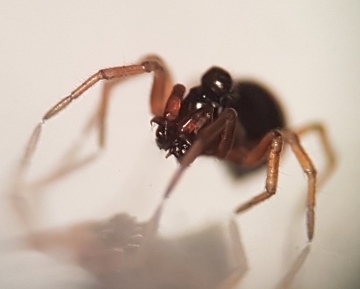 Identification difficulty rating:
5
Name: Pelecopsis susannae
Authority: (Simon, 1914)
Order: Arachnida: Araneae
Family: Linyphiidae
IUCN status: NA

Records: 12
First Record: 2016
Latest Record: 2018
1992-on hectads: 1
Pre-1992 hectads: 0
Total hectads: 1
Explore
Regional Distribution
View notes or log on and add a note on this species
log-on to access spider taxon report
About this species
Recorded altitude range
32m to 33m
Species text
Distribution
A single male of this species was found in December 2016 in a park on the outskirts of Bovey Tracey in Devon. Two more males and a female were found in January and then another male in October 2017, all from the same set of poplars. In Europe the species has been recorded from France, Spain and Portugal.
Habitat and ecology
So far in Britain the spider has only been found in winter, on the vertical trunks of a small set of moss and lichen clad poplars in open parkland next to a stream. Males have been observed making a small web in moss in captivity. In Europe the spider is thought to favour open habitats and is known to be winter active.
Status
Introduced. Appears to be established.
Original author of profile: Matt Prince References


Adult Season
Adult Season Data (based on 11 records with adult season information)
Habitats
background methodology
Broad Habitat Data (based on 9 records with habitat information)
Broad subhabitat Data (based on 8 records with subhabitat information)
no structural habitat data available
Habitat Detail and Method (based on 11 records with habitat detail and method information)
Recorded management for locations with Pelecopsis susannae
Recorded substrate and hydrology for locations with Pelecopsis susannae


Images
upload a new image
for this species
See also A-Z Species Index - A-Z Picture Index - previous species | next species