Summary for Platybunus pinetorum (Opiliones)
previous species | next species
National Distribution
Logged-on? click on dot to query records. Please note our
Terms of Use
. Double-click on map to go to region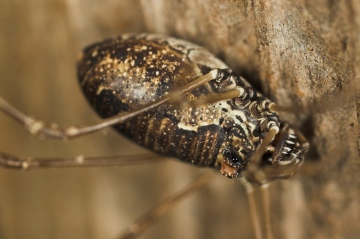 Identification difficulty rating:
4
Name: Platybunus pinetorum
Authority: C. L. Koch 1839
Order: Arachnida: Opiliones
Family: Phalangiidae
Records: 36
First Record: 2010
Latest Record: 2020
1992-on hectads: 22
Pre-1992 hectads: 0
Total hectads: 23
Explore
Regional Distribution
Please log on and add a note on this species
log-on to access spider taxon report
About this species
Recorded altitude range
15m to 267m
Species text
Distribution
Platybunus pinetorum
is a recent introduction, first recorded in Britain in 2010 in Sheffield and subsequently in the Glasgow area, Yorkshire, Northampton, Edinburgh, south-west Scotland and getting as far north as Aberdeenshire by 2014. It seems likely that this species had been present for a number of years before being noticed.
This species occurs widely across Europe including France, Belgium, the Netherlands, Luxembourg, Germany, Austria, Switzerland, Romania and northern Italy.
Habitat and ecology
Platybunus pinetorum is a forest species which has been found in Britain in a range of woodland and grassland habitats and also in gardens and quarries and on the walls of buildings. Adults have been observed on tree trunks. It appears to be slightly less synanthropic than the other recent harvestman introductions.
The adults have been found from March to May, with the juveniles presumably hatching during the summer and overwintering, as in P. triangularis. The limited information on food includes a homopteran bug!
There is plenty opportunity to study the spread and ecology of this large harvestman.
Status
Recent introduction, spreading rapidly.
Text based on: Wijnhoven, H. 2009. De Nederlandse hooiwagens (Opiliones) Naturalis Biodiversity Centre - Entomologische Tabellen, The Netherlands. (translation available here: http://srs.britishspiders.org.uk/portal/p/Harvestman+Resources)

References


Adult Season
Adult Season Data (based on 21 records with adult season information)
Habitats
background methodology
Broad Habitat Data (based on 9 records with habitat information)
Broad subhabitat Data (based on 1 records with subhabitat information)
Structural Habitat Data (based on 10 records with structural habitat information)
Habitat Detail and Method (based on 13 records with habitat detail and method information)
Recorded management for locations with Platybunus pinetorum
Recorded substrate and hydrology for locations with Platybunus pinetorum


Images
upload a new image
for this species
See also A-Z Species Index - A-Z Picture Index - previous species | next species