Summary for Psilochorus simoni (Araneae)
previous species | next species
National Distribution
Logged-on? click on dot to query records. Please note our
Terms of Use
. Double-click on map to go to region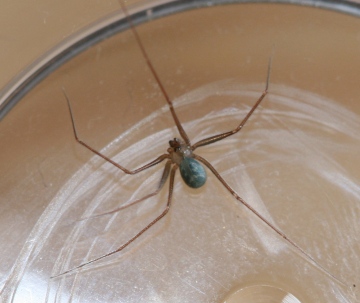 Identification difficulty rating:
3
Name: Psilochorus simoni
Authority: (Berland, 1911)
Order: Arachnida: Araneae
Family: Pholcidae
IUCN status: LC

Records: 78
First Record: 1928
Latest Record: 2021
1992-on hectads: 18
Pre-1992 hectads: 24
Total hectads: 42
Explore
Regional Distribution
View notes or log on and add a note on this species
log-on to access spider taxon report
About this species
Recorded altitude range
1m to 190m
Species text
Distribution
The species is widespread but very scattered in Britain. The species is widespread in western Europe.
Habitat and ecology
Most early records were from dry wine cellars, but it is now recorded in other indoor situations (Merrett 1979), usually found close to floor level. The female hangs upside down in a tangled sheet web and gyrates very rapidly if disturbed. She carries the bundle of eggs in her chelicerae, loosely surrounded by silk threads, until they hatch. Adults may be found at all seasons and in Europe it has been observed that males may live for two years and females for three to four years (Bristowe 1958).
Status
This species is found infrequently in England and Wales, and there are few records from Scotland. It is thought to be of American origin, imported first into France and then into Britain on wine bottles.
Original author of profile: D.R. Nellist
Text based on Harvey, P.R., Nellist, D.R. & Telfer, M.G. (eds) 2002. Provisional atlas of British spiders (Arachnida, Araneae), Volumes 1 & 2. Huntingdon: Biological Records Centre. References


Adult Season
Adult Season Data (based on 35 records with adult season information)
Habitats
background methodology
Broad Habitat Data (based on 26 records with habitat information)
no subhabitat data available
Structural Habitat Data (based on 3 records with structural habitat information)
Habitat Detail and Method (based on 5 records with habitat detail and method information)
Recorded management for locations with Psilochorus simoni
Recorded substrate and hydrology for locations with Psilochorus simoni


Images
upload a new image
for this species
See also A-Z Species Index - A-Z Picture Index - previous species | next species