Summary for Xerolycosa miniata (Araneae)
previous species | next species
National Distribution
Logged-on? click on dot to query records. Please note our
Terms of Use
. Double-click on map to go to region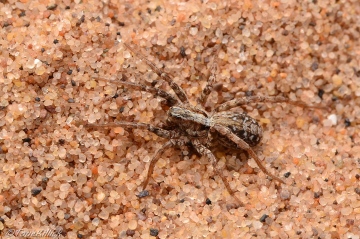 Identification difficulty rating:
3
Name: Xerolycosa miniata
Authority: (C.L.Koch, 1834)
Order: Arachnida: Araneae
Family: Lycosidae
National Rarity status: NS

IUCN status: LC

Records: 611
First Record: 1878
Latest Record: 2019
1992-on hectads: 63
Pre-1992 hectads: 58
Total hectads: 91
Explore
Regional Distribution
View notes or log on and add a note on this species
log-on to access spider taxon report
About this species
Recorded altitude range
0m to 180m
Species text
Distribution
X. miniata is widespread on the coast of Britain as far north as eastern central Scotland, but is absent from some apparently suitable areas. It is widespread in western and central Europe, but has not been recorded from Ireland.
Habitat and ecology
This lycosid spider is essentially restricted to coastal sand dunes where it favours fixed dunes. In this habitat specimens can often be found in association with areas of sand adjacent to clumps of restharrow. X. miniata has also been found inhabiting rocky, sparsely vegetated terrain at a coastal Flintshire site (Felton 1995). Adults of both sexes have been recorded in summer. Females have been observed carrying young on their abdomens in July.
Status
Locally common in its dune habitat but has apparently declined in the past 20 years.
Threats
Public pressure on sand dunes has increased significantly in recent years and may pose a threat to this species. The use of off-road vehicles on sand dunes can cause serious erosion and degradation, particularly to dune heath where this species is most common.
Management and conservation
Protect dune systems form excessive public pressure, particularly the use of off-road vehicles.
Text based on Dawson, I.K., Harvey, P.R., Merrett, P. & Russell-Smith, A.R. (in prep.). References


Adult Season
Adult Season Data (based on 234 records with adult season information)
Habitats
background methodology
Broad Habitat Data (based on 275 records with habitat information)
Broad subhabitat Data (based on 26 records with subhabitat information)
Structural Habitat Data (based on 154 records with structural habitat information)
Habitat Detail and Method (based on 136 records with habitat detail and method information)
Recorded management for locations with Xerolycosa miniata
Recorded substrate and hydrology for locations with Xerolycosa miniata


Images
upload a new image
for this species
See also A-Z Species Index - A-Z Picture Index - previous species | next species