Summary for Xysticus luctator (Araneae)
previous species | next species
National Distribution
Logged-on? click on dot to query records. Please note our
Terms of Use
. Double-click on map to go to region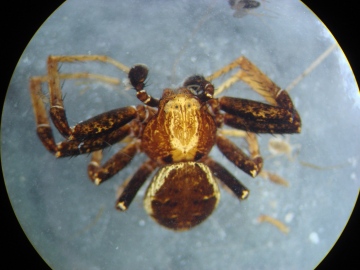 Identification difficulty rating:
4
Name: Xysticus luctator
Authority: L.Koch, 1870
Order: Arachnida: Araneae
Family: Thomisidae
National Rarity status: NR

IUCN status: EN, criteria: B2ab(ii,iv)

Records: 9
First Record: 1854
Latest Record: 2012
1992-on hectads: 2
Pre-1992 hectads: 3
Total hectads: 4
Explore
Regional Distribution
Please log on and add a note on this species
log-on to access spider taxon report
About this species
Recorded altitude range
Species text
Distribution
The species has been recorded only from Bloxworth Heath, Dorset (a single male in 1854 and a female soon after); Beaulieu Road Heath in the New Forest, South Hampshire (a male and female in 1958 and several times previously); High Standing Hill, Windsor Forest, Berkshire (a single female in 1978) and Whiteleaf Hill near Princes Risborough, Buckinghamshire (a single female in 1995). It is fairly widespread in central and northern Europe.
Habitat and ecology
X. luctator is found in mature dry heathland, under dead wood among heather and beech litter, and amongst dead wood and leaf litter in beech woodland. Both sexes are adult in May.
Status
Few individuals have been found, and the spider appears to be very rare. Although collected from three locations before 1992 it has been recorded from just one location since that date.
Threats
The grazing pressure, particularly from ponies, is too high in much of the New Forest for mature heath to develop. This is despite the fact that current grazing levels are much below that allowed by the bye-laws. However, in the long term a more serious threat is posed by the decline of grazing as the population of the New Forest loses interest in exercising the commoners' rights to graze livestock. A marked lessening of the grazing pressure would allow scrub encroachment on the areas of heath. Bloxworth Heath has been largely lost to conifer forestry, only a small part of the original surviving as Morden Bog NNR.
Management and conservation
Manage grazing pressure in areas of New Forest where this species is known to occur to allow mature heath to develop
Text based on Dawson, I.K., Harvey, P.R., Merrett, P. & Russell-Smith, A.R. (in prep.). References


Adult Season
Adult Season Data (based on 1 records with adult season information)
Habitats
background methodology
no broad habitat data available
no subhabitat data available
Structural Habitat Data (based on 1 records with structural habitat information)
no habitat detail or method data available
Recorded management for locations with Xysticus luctator
Recorded substrate and hydrology for locations with Xysticus luctator


Images
upload a new image
for this species
See also A-Z Species Index - A-Z Picture Index - previous species | next species