Summary for Philodromus buxi (Araneae)
previous species | next species
National Distribution
Logged-on? click on dot to query records. Please note our
Terms of Use
. Double-click on map to go to region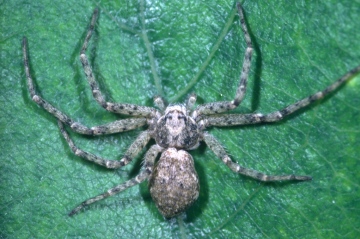 Identification difficulty rating:
5
Name: Philodromus buxi
Authority: Simon, 1884
Order: Arachnida: Araneae
Family: Philodromidae
IUCN status: NA

Records: 38
First Record: 1881
Latest Record: 2020
1992-on hectads: 7
Pre-1992 hectads: 1
Total hectads: 8
Explore
Regional Distribution
Please log on and add a note on this species
log-on to access spider taxon report
About this species
Recorded altitude range
5m to 5m
Species text
Distribution
A single female was taken at Bloxworth by O. Pickard-Cambridge in the nineteenth century (Locket et al. 1974). Two males were collected on two separate dates in 2014 in a Malaise trap located on a green roof in Greenwich (Wilson, 2015), it was found to be numerous in one area in the Lee valley in 2016 and has also been found at a site in Thurrock in Essex in the same year. The species is absent from Scandinavia, but has been recorded from France, Belgium, the Netherlands, Germany, Switzerland, Hungary, Romania and the Iberian Peninsula.
Habitat and ecology
In Europe the species can be found on bushes and trees.
Status
The species was deleted from the British checklist (Merrett & Murphy 2000) because only one specimen had ever been recorded from Britain in the nineteenth century, and there may have been confusion over its origin. We currently do not know how the 2014 specimens came to be in Greenwich, but the suspicion that a population exists in the local area has been proven, and the species will probably increasingly start appearing elsewhere in the region.
Author of profile: P.R. Harvey References


Adult Season
Adult Season Data (based on 20 records with adult season information)
Habitats
background methodology
Broad Habitat Data (based on 11 records with habitat information)
no subhabitat data available
Structural Habitat Data (based on 29 records with structural habitat information)
Habitat Detail and Method (based on 30 records with habitat detail and method information)
Recorded management for locations with Philodromus buxi
Recorded substrate and hydrology for locations with Philodromus buxi


Images
upload a new image
for this species
See also A-Z Species Index - A-Z Picture Index - previous species | next species