Notes on Pellenes tripunctatus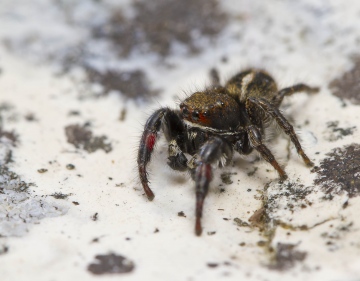 The habitat site of Pellenes tripunctatus (Walckenaer) by Dick Jones
From The Newsletter No. 34 July 1982
The precise site of my capture of a single specimen of Pellenes tripunctatus (Walck.) at Dungeness may be of interest to any members of the Society who are in this area of Kent, by design or accident in the forthcoming season. In April (1981) I visited Camber Sands with the hope of securing some pictures of Philodromus fallax Sundevall, which I had failed to find at other locations. My luck was in, as I found several within a few hours; this left me in the position of having another night's accommodation booked with my immediate goal achieved.
The local tourist information provided by the hotel described Dungeness as a 'God-forsaken and desolate piece of uninviting shingle', and remembering that Pellenes tripunctatus had been recorded from the area (Locket, Millidge and Merrett, 1974) I decided to push my luck further, and visit this promising location. An unclassified road leaves Lydd in a south-easterly direction, crosses a narrow gauge railway line and runs parallel to the beach, until it reaches the power station. A few yards beyond the level crossing, the life boat station is situated on the left hand side of the road on the beach. Literally a stone's throw to the south of this building I parked the car and walked slowly seaward scanning the pebbles a few yards ahead; within seconds the unfortunate (and exceptionally unwary) spider was in my pooler! The weather was cold but brilliantly sunny and I suspect that the spider had come out of its winter seclusion quite recently, in response to the improving weather.
The specimen was 5 mm in length, with an overall dark greyish brown colouration. The body and legs were thickly covered in exceptionally long pale hairs. The abdominal pattern, composed of squamose hairs, earns this species the name Die Kreuzspringspinne (the 'cross' jumpingspider) and several of its synonyms describe this pattern: cruclgerus, crux, and crucifer (Dahl, 1926). The spider was probably sub-adult, but in spite of a diet of assorted small flies, it never moulted in captivity and died on 22nd October without reaching maturity. It was observed that the spider seemed reluctant to feed unless it was exceptionally warm, and so, in order for it to take full advantage of the flies I provided, I would place a 60 watt bulb near its container until the prey was caught. On sunny days it could be left on a window sill indoors for the same effect, but never once was seen to drink any water during its period of captivity.
References
Dahl, F. (1920). Die Tierwelt Deutschlands: I. Spinnentiere oder Arachnoidea Springspinnen (Salticidae). p. 48/49 Jena.
Locket, G. H., Millidge, A. F. and Merrett, P. (1974). Brttlth Spiders 3. Ray Soc. London.

Added by John Partridge at 19:36 on Tue 10th Jan 2012. Return to Summary for Pellenes tripunctatus