Summary for Araneus marmoreus var. pyramidatus (Araneae)
previous species | next species
National Distribution
Logged-on? click on dot to query records. Please note our
Terms of Use
. Double-click on map to go to region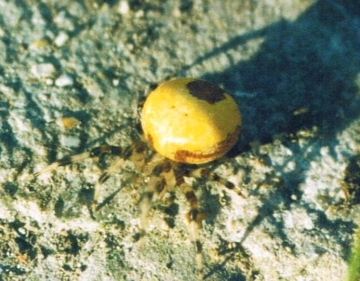 Identification difficulty rating:
2
Name: Araneus marmoreus var. pyramidatus
Authority: Clerck, 1757
Order: Arachnida: Araneae
Family: Araneidae
IUCN status: LC

Records: 515
First Record: 1820
Latest Record: 2021
1992-on hectads: 134
Pre-1992 hectads: 83
Total hectads: 189
Explore
Regional Distribution
View notes or log on and add a note on this species
About this species
Recorded altitude range
0m to 275m
Species text
Distribution
The species is widespread but locally distributed in Britain, mainly south of a line between Carmarthenshire and Yorkshire. It is widespread in western and central Europe, but has not been recorded from Ireland.
Habitat and ecology
Both forms may be found in woodlands and wet heathland. Araneus marmoreus is a large orb web spider that spins its web on the lower branches of trees, shrubs and in tall herbaceous vegetation but usually at heights above 1.5 m (Jones 1983). At Wicken Fen the form pyramidatus is common quite low down in webs spun in rank path-side grass (I. Dawson, pers. comm.). Both sexes are adult from late summer through to the autumn.
Status
An uncommon species with two distinct colour varieties. A. marmoreus var. marmoreus is found mainly in an area of eastern England from Norfolk to Yorkshire, where it can be relatively common on the lowland heaths (Smith 1982).
Original author of profile: P. Lee References


Adult Season
Adult Season Data (based on 187 records with adult season information)
Habitats
background methodology
Broad Habitat Data (based on 213 records with habitat information)
Broad subhabitat Data (based on 35 records with subhabitat information)
Structural Habitat Data (based on 90 records with structural habitat information)
Habitat Detail and Method (based on 94 records with habitat detail and method information)
Recorded management for locations with Araneus marmoreus var. pyramidatus
Recorded substrate and hydrology for locations with Araneus marmoreus var. pyramidatus


Images
upload a new image
for this species
See also A-Z Species Index - A-Z Picture Index - previous species | next species