Summary for Callilepis nocturna (Araneae)
previous species | next species
National Distribution
Logged-on? click on dot to query records. Please note our
Terms of Use
. Double-click on map to go to region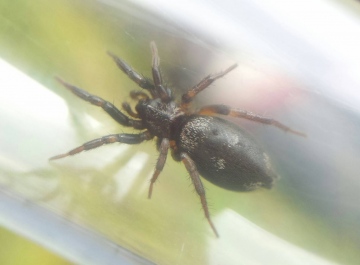 Identification difficulty rating:
4
Name: Callilepis nocturna
Authority: (Linnaeus, 1758)
Order: Arachnida: Araneae
Family: Gnaphosidae
National Rarity status: NR

IUCN status: VU, criteria: D2

Records: 24
First Record: 1969
Latest Record: 2021
1992-on hectads: 3
Pre-1992 hectads: 1
Total hectads: 3
Explore
Regional Distribution
Please log on and add a note on this species
About this species
Recorded altitude range
20m to 20m
Species text
Distribution
C. nocturna has been recorded from only three sites in Britain: at Prawle Point and Signalmans Point in south Devon, at Tennyson Down on the Isle of Wight, and more recently in Pembrokeshire, southwest Wales. It is widespread in Europe being recorded from as far north as Scandinavia.
Habitat and ecology
Coastal grassland and cliffs. In Britain it has been recorded running over sandy banks, rocks and exposed chalk, all on sea cliffs. This diurnal species appears to require bare ground with a sunny microclimate and may be associated with ants. On the continent this species is associated with coniferous woodlands, where it is often found under stones. Adults have been found in May and June.
Status
Recorded from only three sites, though no sign of any decline. The exposed bare ground required by the spider at these sites is threatened by scrub encroachment.
Threats
The growth of scrub may shade the exposed sandy banks or rocks on which this species has been found.
Management and conservation
Prevent the encroachment of scrub around south facing sandy banks and rocks at the known sites.
Text based on Dawson, I.K., Harvey, P.R., Merrett, P. & Russell-Smith, A.R. (in prep.). References


Adult Season
Adult Season Data (based on 16 records with adult season information)
Habitats
background methodology
Broad Habitat Data (based on 7 records with habitat information)
no subhabitat data available
Structural Habitat Data (based on 5 records with structural habitat information)
Habitat Detail and Method (based on 7 records with habitat detail and method information)
Recorded management for locations with Callilepis nocturna
Recorded substrate and hydrology for locations with Callilepis nocturna


Images
upload a new image
for this species
See also A-Z Species Index - A-Z Picture Index - previous species | next species