Summary for Clubiona juvenis (Araneae)
previous species | next species
National Distribution
Logged-on? click on dot to query records. Please note our
Terms of Use
. Double-click on map to go to region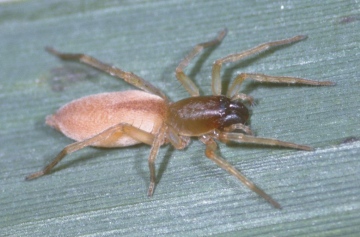 Identification difficulty rating:
3
Name: Clubiona juvenis
Authority: Simon, 1878
Order: Arachnida: Araneae
Family: Clubionidae
National Rarity status: NR

IUCN status: NT, criteria: B2a

Records: 205
First Record: 1962
Latest Record: 2019
1992-on hectads: 12
Pre-1992 hectads: 10
Total hectads: 16
Explore
Regional Distribution
View notes or log on and add a note on this species
About this species
Recorded altitude range
0m to 15m
Species text
Distribution
In Britain, recorded from Cambridgeshire (Chippenham Fen 1995), Dorset (Keysworth, Poole Harbour 1962-63), Essex (Stanford Warren 1987-88 and further localities in the Thames estuary since that time; Old Hall Marshes 1995), East Norfolk (Bure Marshes, Reedham Marsh, Horsey Mere 1970-71; Barton Turf 1983; Reedham, Catfield, Sutton, Woodbastwick and Hickling 1988-89 and 2007), and Kent (Cliffe, 2003). Elsewhere in Europe, it has been recorded from 11 countries including Italy, Switzerland, Austria, Romania, France, Ireland, the Netherlands, Belgium, Germany, Poland and Estonia.
Habitat and ecology
In Britain it has been found in reedbeds and fens including brackish reedbeds in Dorset, Essex and Kent, under cut Cladium and among reeds and in ground vegetation in Phragmites/Cladium fens in Norfolk, including in Sphagnum moss. In Essex females have been taken from silken retreats in reed heads in an area of wet grass and reeds. Reedbeds also seem to be the most typical habitat elsewhere in Europe but it has been taken in dense vegetation on coastal sand dunes in Ireland and Germany. In Britain, adults have been recorded between April and November but Decleer & Bosmans (1989) collated all records in Europe and found adults present in all months from March to December. They suggest that this species has two generations per year, the first generation hatching in spring, hibernating as adults and reproducing the following spring and the second generation produced in summer, hibernating as sub-adults and reproducing in the next autumn.
Status
Occurring in ten 10-km squares since 1992, though it appears to be well established at several places in the Broads, East Norfolk, all of which are in either National or Local Nature Reserves. No evidence of any decline.
Threats
All the known sites in Norfolk lie within NNRs or SSSIs. Stanford Warren in Essex was denotified as an SSSI a number of years ago but is currently an Essex Wildlife Trust reserve, and Old Hall Marshes and Cliffe Pools (in Kent) are RSPB reserves, as is Sutton Fen in Norfolk. In the latter county the biggest threat to this species has been loss of reedbeds in recent years in the Broads, caused principally by eutrophication of waterways. The best areas of reedbeds are now those that are largely isolated from the main Broadland rivers. In areas where regular reed cutting has ceased, succession of reedbeds to carr woodland is also a major threat.
Management and conservation
Efforts are now under way to reduce the nutrient load in the Broads rivers by more effective sewage treatment and regulation of waste discharge from boats. The re-establishment of regular reed and sedge cutting in several of the East Norfolk nature reserves should help to prevent invasion of reed and sedge beds by carr woodland.
Text based on Dawson, I.K., Harvey, P.R., Merrett, P. & Russell-Smith, A.R. (in prep.). References


Adult Season
Adult Season Data (based on 87 records with adult season information)
Habitats
background methodology
Broad Habitat Data (based on 80 records with habitat information)
Broad subhabitat Data (based on 18 records with subhabitat information)
Structural Habitat Data (based on 42 records with structural habitat information)
Habitat Detail and Method (based on 71 records with habitat detail and method information)
Recorded management for locations with Clubiona juvenis
Recorded substrate and hydrology for locations with Clubiona juvenis


Images
upload a new image
for this species
See also A-Z Species Index - A-Z Picture Index - previous species | next species