Summary for Dipoena torva (Araneae)
previous species | next species
National Distribution
Logged-on? click on dot to query records. Please note our
Terms of Use
. Double-click on map to go to region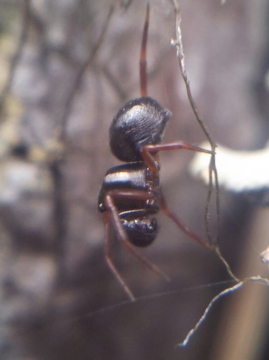 Identification difficulty rating:
4
Name: Dipoena torva
Authority: (Thorell, 1875)
Order: Arachnida: Araneae
Family: Theridiidae
National Rarity status: NR

IUCN status: NT, criteria: B2a

Records: 50
First Record: 1948
Latest Record: 2021
1992-on hectads: 10
Pre-1992 hectads: 5
Total hectads: 11
Explore
Regional Distribution
Please log on and add a note on this species
About this species
Recorded altitude range
150m to 420m
Species text
Distribution
D. torva is known only from a few sites in Scotland, including the Black Wood of Rannoch, Rothiemurchus Forest, Abernethy Forest, Bognacruie, Glen Tanar and Ballochbuie. However, the species appears to be well established and frequent at its known sites. It is known from France, Scandinavia and eastern and central Europe.
Habitat and ecology
The species is restricted to Caledonian pine forests. It is found in the deep fissures of the bark on trunks of Pinus sylvestris, where it spins a small web in which it catches wood ants. Both sexes have been found in June and females also in July, August and September.
Status
Occurring in six 10-km squares since 1992, but may be frequent in suitable habitat.
Threats
Loss of Caledonian pine forest and afforestation with high densities of non-native trees poses a threat to this species. The dense canopy of commercial forest produces a cooler habitat which is detrimental to both D. torva and its prey.
Management and conservation
Large areas of Caledonian pine forest have been purchased by conservation bodies and are being managed to restore the open nature of the original habitat.
Text based on Dawson, I.K., Harvey, P.R., Merrett, P. & Russell-Smith, A.R. (in prep.). References


Adult Season
Adult Season Data (based on 22 records with adult season information)
Habitats
background methodology
Broad Habitat Data (based on 18 records with habitat information)
no subhabitat data available
Structural Habitat Data (based on 12 records with structural habitat information)
Habitat Detail and Method (based on 19 records with habitat detail and method information)
Recorded management for locations with Dipoena torva
Recorded substrate and hydrology for locations with Dipoena torva


Images
upload a new image
for this species
See also A-Z Species Index - A-Z Picture Index - previous species | next species