Summary for Euophrys herbigrada (Araneae)
previous species | next species
National Distribution
Logged-on? click on dot to query records. Please note our
Terms of Use
. Double-click on map to go to region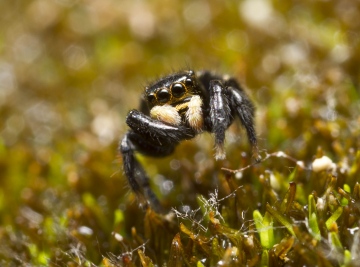 Identification difficulty rating:
4
Name: Euophrys herbigrada
Authority: (Simon, 1871)
Order: Arachnida: Araneae
Family: Salticidae
National Rarity status: NR

IUCN status: VU, criteria: D2

Records: 61
First Record: 1900
Latest Record: 2021
1992-on hectads: 7
Pre-1992 hectads: 11
Total hectads: 15
Explore
Regional Distribution
View notes or log on and add a note on this species
About this species
Recorded altitude range
10m to 213m
Species text
Distribution
The spider has been recorded from a scattering of sites along the south coasts of Cornwall, Devon and Dorset. Its distribution suggests that it is sensitive to frost, and it seems unlikely that it would be found east of the Isle of Wight, or further north in England. A single female recorded at Freshfield, Lancashire was a misidentification, while specimens recorded from Sussex, Middlesex and Suffolk were found on re-examination to be E. frontalis. In Europe the centre of distribution is around the western Mediterranean but extends up the French coast as far as Brittany and the Channel Islands.
Habitat and ecology
Short coastal grassland. E. herbigrada has been collected on dry, sunny slopes or cliff-tops within a few hundred metres of the sea, from among grass and heather and also under stones. Adults have been recorded between April and June.
Status
Showing an apparent decline of over 50% in area of occupancy since 1992, with records from only four locations since 1992. It may be under-recorded in the south west of England, but has been confused on a number of occasions with the common E. frontalis.
Threats
Public pressure may erode these cliff top habitats, which have already been reduced to narrow strips by encroaching agriculture.
Management and conservation
The reduction of public pressure on maritime heaths and grasslands would help to safeguard this species. Global warming might be expected to benefit this species in the UK.
Text based on Dawson, I.K., Harvey, P.R., Merrett, P. & Russell-Smith, A.R. (in prep.). References


Adult Season
Adult Season Data (based on 36 records with adult season information)
Habitats
background methodology
Broad Habitat Data (based on 13 records with habitat information)
no subhabitat data available
Structural Habitat Data (based on 21 records with structural habitat information)
Habitat Detail and Method (based on 18 records with habitat detail and method information)
Recorded management for locations with Euophrys herbigrada
Recorded substrate and hydrology for locations with Euophrys herbigrada


Images
upload a new image
for this species
See also A-Z Species Index - A-Z Picture Index - previous species | next species