Summary for Gnaphosa occidentalis (Araneae)
previous species | next species
National Distribution
Logged-on? click on dot to query records. Please note our
Terms of Use
. Double-click on map to go to region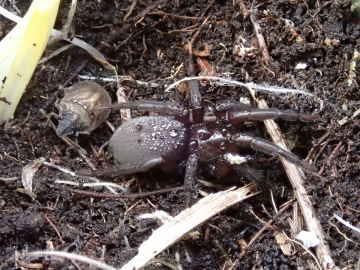 Identification difficulty rating:
4
Name: Gnaphosa occidentalis
Authority: Simon, 1878
Order: Arachnida: Araneae
Family: Gnaphosidae
National Rarity status: NR

IUCN status: NT

Records: 18
First Record: 1922
Latest Record: 2022
1992-on hectads: 3
Pre-1992 hectads: 2
Total hectads: 4
Explore
Regional Distribution
Please log on and add a note on this species
About this species
Recorded altitude range
20m to 20m
Species text
Distribution
The British records are from West Cornwall: Kynance Cove in 1922 (one male and two females), 2004 (one female), Cadgwith in 1935 and Penhale in 2004 (one female). The species is also known from France.
Habitat and ecology
The two specimens collected in 2004 were both found beneath stones in maritime grassland. The two localities are well-known for their cliff-top heather and grassland.
Status
Few specimens have been found in this country. None had been found since 1935 until two females were found independently in 2004, the first from Penhale and the second from Kynance Cove, by P. Smithers and A. Russell-Smith respectively. Public access, accidental fires and scrub encroachment may threaten the existing populations.
Threats
The cliff-tops at Kynance have suffered badly from heavy trampling, but public access is now controlled by the National Trust and the heath and grassland communities are recovering very well. Accidental fires are possibly the main threat at this site now. At Cadgwith there has been no grazing on the cliffs for many years and the coastal heath and grassland have been largely lost to rank vegetation including scrub and bracken. It is unlikely that G. occidentalis will have survived at Cadgwith.
Management and conservation
Grazing has been restored by the National Trust and English Nature on the cliff heathland at Kynance.
Text based on Dawson, I.K., Harvey, P.R., Merrett, P. & Russell-Smith, A.R. (in prep.). References


Adult Season
Adult Season Data (based on 14 records with adult season information)
Habitats
background methodology
Broad Habitat Data (based on 4 records with habitat information)
no subhabitat data available
Structural Habitat Data (based on 11 records with structural habitat information)
Habitat Detail and Method (based on 10 records with habitat detail and method information)
Recorded management for locations with Gnaphosa occidentalis
Recorded substrate and hydrology for locations with Gnaphosa occidentalis


Images
upload a new image
for this species
See also A-Z Species Index - A-Z Picture Index - previous species | next species