Summary for Homalenotus quadridentatus (Opiliones)
previous species | next species
National Distribution
Logged-on? click on dot to query records. Please note our
Terms of Use
. Double-click on map to go to region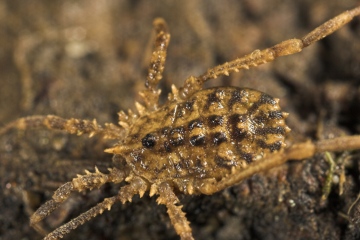 Identification difficulty rating:
3
Name: Homalenotus quadridentatus
Authority: (Cuvier, 1795)
Order: Arachnida: Opiliones
Family: Sclerosomatidae
Records: 481
First Record: 1878
Latest Record: 2021
1992-on hectads: 90
Pre-1992 hectads: 103
Total hectads: 169
Explore
Regional Distribution
Please log on and add a note on this species
About this species
Recorded altitude range
5m to 237m
Species text
Distribution
This species was first recorded in Britain by Meade (1855) at Hampden in Buckinghamshire in August 1854. Meade (1861) provided further records from Brighton in 1856 and near Winchester in 1860.
Homalenotus quadridentatus
is currently recorded south-east of a line drawn between the Humber Estuary and the Gower Peninsula, although Hillyard (2005) notes its presence at Malham in Yorkshire.
Its European distribution includes the Azores, Portugal, Spain, France, Belgium, the Netherlands and Switzerland.

Habitat and ecology
Homalenotus quadridentatus is restricted to calcareous soils (Wijnhoven 2009) and is found in grassland and woodland (especially open beech woods). It is a flattened, short-legged, ground-layer species which should be sought under stones and logs and also at the base of plants and in leaf-litter. It can be caught by sieving or pitfall trapping. The adults (but not juveniles) are often encrusted with soil, presumably as a physical, chemical or visual camouflage.
British records give altitudes of up to 225m, compared with 1800m in the Pyrenees (Martens 1978). It is not clear whether this species' distribution in Britain is restricted solely by soil type or is also limited by temperature. It fills a similar niche to Trogulus tricarinatus and Anelasmocephalus cambridgei but virtually nothing is known about its feeding preferences - Sankey (1949) lists a mite!
The adults are present at all times of the year and the juveniles are most numerous in late summer. It is probable that in Britain juveniles as well as adults are present throughout the year, with over-lapping generations. Rambla (1985, in Pinto-da-Rocha et al. 2007) records juveniles present in Spanish woodland throughout the year and adults in most months. Hillyard (2005) suggests that the eggs are laid in June/July. Estimates of developmental periods suggest the egg phase lasts one month, the juvenile phase 2-3 months and adults live 6-10 months (see Pinta-da-Rocha et al. 2007, p. 457)

Status
Restricted distribution but relatively common where found.
Text based on: Hillyard, P. D. 2005. Harvestmen: keys and notes for the identification of British species. Synopses of the British Fauna 4 (3rd edn). Field Studies Council, Shrewsbury.
References
Martens, J. 1978. Spinnentiere, Arachnida: Weberknechte, Opiliones. Die Tierwelt Deutschlands 64: 1-464. Fischer Verlag, Jena.
Meade R. H. 1855. XXXV. Monograph on the British species of Phalangiidae or Harvestmen. Annals & Magazine of Natural History 2nd Series 15 (90): 393-416.
Meade R. H. 1861. XXXIX. Supplement to a Monograph on the British species of Phalangiidae or Harvestmen. Annals & Magazine of Natural History 3rd Series 41: 353-357.
Pinto-da-Rocha, R., Machado, G. & Giribet, G. (eds) 2007. Harvestmen: the biology of Opiliones. Harvard University Press, Cambridge MA.

References


Adult Season
Adult Season Data (based on 13 records with adult season information)
Habitats
background methodology
Broad Habitat Data (based on 148 records with habitat information)
Broad subhabitat Data (based on 8 records with subhabitat information)
Structural Habitat Data (based on 123 records with structural habitat information)
Habitat Detail and Method (based on 142 records with habitat detail and method information)
Recorded management for locations with Homalenotus quadridentatus
Recorded substrate and hydrology for locations with Homalenotus quadridentatus


Images
upload a new image
for this species
See also A-Z Species Index - A-Z Picture Index - previous species | next species