Summary for Hyptiotes paradoxus (Araneae)
previous species | next species
National Distribution
Logged-on? click on dot to query records. Please note our
Terms of Use
. Double-click on map to go to region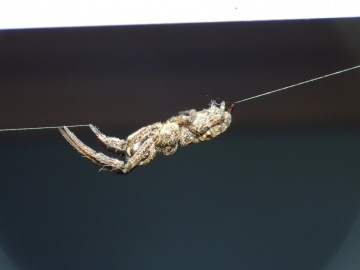 Identification difficulty rating:
3
Name: Hyptiotes paradoxus
Authority: (C.L.Koch, 1834)
Order: Arachnida: Araneae
Family: Uloboridae
National Rarity status: NS

IUCN status: LC

Records: 123
First Record: 1800
Latest Record: 2021
1992-on hectads: 37
Pre-1992 hectads: 11
Total hectads: 42
Explore
Regional Distribution
Please log on and add a note on this species
About this species
Recorded altitude range
20m to 155m
Species text
Distribution
The species was first recorded in Britain in Borrowdale, Cumbria in the 1860s. There are records from various locations in the New Forest, South Hampshire; Box Hill and Wallis Wood, Surrey; Bagley Wood, Oxfordshire; Butler's Hangings and Hearnton Wood, Buckinghamshire and Grubbins Wood, Westmorland. Recent (1990s) surveys have recorded the spider in the Forest of Dean, Gloucestershire and in the Wye Valley and at Queen's Wood near Ross, Herefordshire (Askins 1990; Farr-Cox 1990; Merrett in Bratton 1991; Rixom 1998). Merrett (1995, 2000) also gives new county records for Kent, Staffordshire and Dorset. The spider is widespread in western and central Europe but not common.
Habitat and ecology
H. paradoxus is found on evergreen trees and shrubs (particularly yew), although has been found by one of the the authors in its web on immature beech on edge of oak woodland in Central France. The spider spins a triangular segment of orb web (containing 2 radial threads) within the tree foliage and keeps it taut by holding on to one corner of the triangle from its sitting position. When an insect is caught in the web the spider slackens and tightens the tension of the web until its prey is fully entangled in silk before advancing to wrap it securely (Roberts 1995). Both sexes reach maturity in the late summer, mating not occurring until the following spring. It appears that the young spiders over-winter in the egg-sac, not reaching maturity until late the following summer, two years after their mother reached maturity (Bristowe 1958).
Status
The spider has been abundant at some sites, such as Bagley Wood (where it was still recorded in the 1970s), Box Hill and some sites in the New Forest. West Country records are each for only one or two individuals.
Threats
The spider appears to favour a habitat where evergreen trees and bushes grow in amongst broad-leaved species e.g. Bagley Wood and West Walk Wood. Bagley Wood has undergone extensive conifer planting and although the spider has been recorded since this occurred it is not known whether the spider is utilising the increased conifer coverage or remaining within the broad-leaved woodland. West Walk Wood has similarly undergone conifer planting but there is no information on the current status of the spider at this site.
Management and conservation
The present uncertain status of Hyptiotes paradoxus within the sites where it has been recorded makes it difficult to offer any concrete suggestions for future management. Confirmation of the continued presence of the spider at the sites mentioned and some assessment of its current status is required. Maintenance of a suitable mix of evergreen and broad-leaved trees and shrubs would seem to be an essential pre-requisite at sites where the spider has been recorded.
Text based on Dawson, I.K., Harvey, P.R., Merrett, P. & Russell-Smith, A.R. (in prep.). References


Adult Season
Adult Season Data (based on 38 records with adult season information)
Habitats
background methodology
Broad Habitat Data (based on 28 records with habitat information)
Broad subhabitat Data (based on 1 records with subhabitat information)
Structural Habitat Data (based on 18 records with structural habitat information)
Habitat Detail and Method (based on 22 records with habitat detail and method information)
Recorded management for locations with Hyptiotes paradoxus
Recorded substrate and hydrology for locations with Hyptiotes paradoxus


Images
upload a new image
for this species
See also A-Z Species Index - A-Z Picture Index - previous species | next species