Summary for Kochiura aulica (Araneae)
previous species | next species
National Distribution
Logged-on? click on dot to query records. Please note our
Terms of Use
. Double-click on map to go to region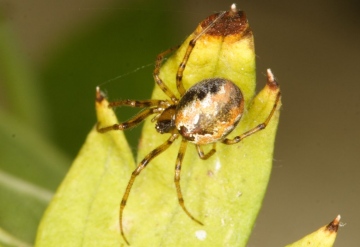 Identification difficulty rating:
3
Name: Kochiura aulica
Authority: (C.L.Koch, 1838)
Order: Arachnida: Araneae
Family: Theridiidae
National Rarity status: NS

IUCN status: LC

Records: 305
First Record: 1909
Latest Record: 2021
1992-on hectads: 50
Pre-1992 hectads: 23
Total hectads: 61
Explore
Regional Distribution
Please log on and add a note on this species
About this species
Recorded altitude range
0m to 350m
Species text
Distribution
A. aulicus
is restricted to southern England. It has been recorded from France, Germany, the Czech Republic and Hungary but is more abundant in southern Europe.
Habitat and ecology
This species is typically found on gorse Ulex on lowland heathland and coastal grasslands. It spins a small web near the end of gorse branches. The spider is often resistent to beating, but easily found by searching the ends of gorse branches. The species has also been swept from low vegetation on post industrial land supporting habitat with heathland characteristics. Males are adult in May and June, females from May to August.
Status
The spider may be abundant on gorse on inland heaths but less abundant on heaths and grasslands in coastal localities.
Threats
The loss of gorse on heathland and coastal grasslands. This species can survive on gorse bushes in remnant heathland along the sides of roads and forestry plantations.
Management and conservation
Maintain populations of Ulex europaeus in suitable habitats within its range.
Text based on Dawson, I.K., Harvey, P.R., Merrett, P. & Russell-Smith, A.R. (in prep.). References


Adult Season
Adult Season Data (based on 175 records with adult season information)
Habitats
background methodology
Broad Habitat Data (based on 104 records with habitat information)
Broad subhabitat Data (based on 9 records with subhabitat information)
Structural Habitat Data (based on 82 records with structural habitat information)
Habitat Detail and Method (based on 118 records with habitat detail and method information)
Recorded management for locations with Kochiura aulica
Recorded substrate and hydrology for locations with Kochiura aulica


Images
upload a new image
for this species
See also A-Z Species Index - A-Z Picture Index - previous species | next species