Summary for Lacinius ephippiatus (Opiliones)
previous species | next species
National Distribution
Logged-on? click on dot to query records. Please note our
Terms of Use
. Double-click on map to go to region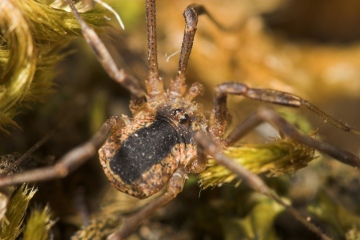 Identification difficulty rating:
3
Name: Lacinius ephippiatus
Authority: (C.L.Koch, 1835)
Order: Arachnida: Opiliones
Family: Phalangiidae
Records: 2026
First Record: 1882
Latest Record: 2022
1992-on hectads: 237
Pre-1992 hectads: 411
Total hectads: 599
Explore
Regional Distribution
Please log on and add a note on this species
About this species
Recorded altitude range
1m to 400m
Species text
Distribution
Lacinius ephippiatus
is widespread across the British Isles. Tt is recorded at similar frequency to
Oligolophus tridens
with which it is commonly confused. It extends as far north as Orkney and Shetland but has not been recorded in the Outer Hebrides. It was first recorded as a British species by Meade (1855) who considered it 'abundant in various parts of England and Wales'.
It is widespread across Europe with the exception of Spain and Northern Scandinavia.
Habitat and ecology
In Britain, it is recorded at altitudes of up to 400m, but Martens (1978) notes that it occurs up to 1650m in the Alps.
Adults are present from May to November with the main activity in July/August, a little earlier than O. tridens. It is a species which likes relatively damp habitats, living down in the vegetation and litter of wetlands, grasslands and deciduous woodlands, but climbing higher up in the herb layer when foraging at night. Various authors have recorded L. ephippiatus feeding on springtails, bugs, flies, myriapods, spiders, harvestmen, woodlice, earthworms and snails (Pinto-da-Rocha et al. 2007, p. 311). Freshly killed prey appears to be preferred over carrion and there is no evidence for consumption of vegetable or fungal material.
Identification Note: Sometimes the palpal tubercles are missed, leading to confusion with O. tridens when using the key in Hillyard (2005). Additional character: there is a retrolateral tooth on the male chelicera of L. ephippiatus.
Status
Widespread and common.

Text based on: Hillyard, P. D. 2005. Harvestmen: keys and notes for the identification of British species. Synopses of the British Fauna 4 (3rd edn). Field Studies Council, Shrewsbury.
References
Martens, J. 1978. Spinnentiere, Arachnida: Weberknechte, Opiliones. Die Tierwelt Deutschlands 64: 1-464. Fischer Verlag, Jena.
Meade, R. H. 1855. XXXV. Monograph on the British species of Phalangiidae or Harvestmen. Annals & Magazine of Natural History 2nd Series 15 (90): 393-416.
Pinto-da-Rocha, R., Machado, G. & Giribet, G. (eds) 2007. Harvestmen: the biology of Opiliones. Harvard University Press, Cambridge MA.

References


Adult Season
Adult Season Data (based on 516 records with adult season information)
Habitats
background methodology
Broad Habitat Data (based on 498 records with habitat information)
Broad subhabitat Data (based on 56 records with subhabitat information)
Structural Habitat Data (based on 670 records with structural habitat information)
Habitat Detail and Method (based on 774 records with habitat detail and method information)
Recorded management for locations with Lacinius ephippiatus
Recorded substrate and hydrology for locations with Lacinius ephippiatus


Images
upload a new image
for this species
See also A-Z Species Index - A-Z Picture Index - previous species | next species