Summary for Leiobunum rotundum (Opiliones)
previous species | next species
National Distribution
Logged-on? click on dot to query records. Please note our
Terms of Use
. Double-click on map to go to region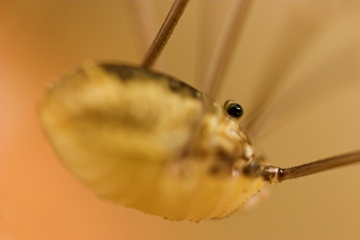 Identification difficulty rating:
2
Name: Leiobunum rotundum
Authority: (Latreille, 1798)
Order: Arachnida: Opiliones
Family: incertae sedis
Records: 3829
First Record: 1878
Latest Record: 2021
1992-on hectads: 622
Pre-1992 hectads: 861
Total hectads: 1278
Explore
Regional Distribution
View notes or log on and add a note on this species
About this species
Recorded altitude range
0m to 497m
Species text
Distribution
This is a widespread and common species. When first recorded by Meade (1855) he described it as 'very abundant'. Hillyard (2005) notes that it is particularly common in the south, however there is some indication that since the early 1990s there has been some retraction in range in the far south-east. It extends north to Orkney.
Care is required with discriminating between Leiobunum blackwalli and L. rotundum (the key character of a pale or dark ring around the eyes can be confusing). Identification is made even more difficult with the recent introductions of other Leiobunum species: L. gracile and the as yet unnamed L. sp.A.
Leiobunum rotundum is widespread in Europe except in the Mediterranean region. Wijnhoven (2009) lists it as occurring in Portugal and northern Spain, France, Ireland, the Benelux countries, Germany, Switzerland, Austria, Denmark, Norway, Sweden, Poland, the Baltic States, Hungary, Romania, Croatia and Slovenia and northern Italy.
Habitat and ecology
Leiobunum rotundum makes use of a wide range of habitats especially those with good structure, such as woods, hedgerows, rocky areas, heaths and gardens. It can sometimes be found in small aggregations on both natural and man-made surfaces, such tree trunks, rocks, walls and under bridges. The species generally favours shady, moist environments and is less common in open grassland and dune habitats. It has been recorded at up to 414m in Britain but at 2000m in the Alps (Martens 1978).
The adults are most commonly found from July (peaking in August) through to November or early December, but there are records from as early as May/June. The eggs hatch around April and the juveniles are found in the ground layer.
This is a long-legged species that is able to move easily through its habitat both vertically and horizontally. It exploits a very wide range of invertebrate prey including, bugs, beetle larvae, moths and myriapods, as well as spiders and other harvestmen. It also makes use of vertebrate carrion.
This is another species which may find itself in conflict with some of the introduced species of harvestmen, e.g. L. gracile and Opilio canestrinii, and their interactions would be worthy of investigation. Also the apparent decline in south-east England (potentially a climatic effect) should prompt some resurveys of old sites.
Status
Widespread and common
Text based on: Hillyard, P. D. 2005. Harvestmen: keys and notes for the identification of British species. Synopses of the British Fauna 4 (3rd edn). Field Studies Council, Shrewsbury.
References
Martens, J. 1978. Spinnentiere, Arachnida: Weberknechte, Opiliones. Die Tierwelt Deutschlands 64: 1-464. Fischer Verlag, Jena.
Meade R. H. 1855. XXXV. Monograph on the British species of Phalangiidae or Harvestmen. Annals & Magazine of Natural History 2nd Series 15 (90): 393-416.
Wijnhoven, H. 2009. De Nederlandse hooiwagens (Opiliones) Naturalis Biodiversity Centre - Entomologische Tabellen, The Netherlands. (translation available here:
http://srs.britishspiders.org.uk/portal/p/Harvestman+Resources)

References


Adult Season
Adult Season Data (based on 827 records with adult season information)
Habitats
background methodology
Broad Habitat Data (based on 1466 records with habitat information)
Broad subhabitat Data (based on 199 records with subhabitat information)
Structural Habitat Data (based on 544 records with structural habitat information)
Habitat Detail and Method (based on 855 records with habitat detail and method information)
Recorded management for locations with Leiobunum rotundum
Recorded substrate and hydrology for locations with Leiobunum rotundum


Images
upload a new image
for this species
See also A-Z Species Index - A-Z Picture Index - previous species | next species