Summary for Mitostoma chrysomelas (Opiliones)
previous species | next species
National Distribution
Logged-on? click on dot to query records. Please note our
Terms of Use
. Double-click on map to go to region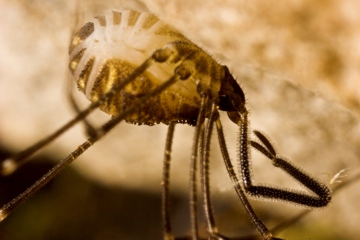 Identification difficulty rating:
2
Name: Mitostoma chrysomelas
Authority: (Hermann, 1804)
Order: Arachnida: Opiliones
Family: Nemastomatidae
Records: 973
First Record: 1878
Latest Record: 2022
1992-on hectads: 195
Pre-1992 hectads: 340
Total hectads: 492
Explore
Regional Distribution
Please log on and add a note on this species
About this species
Recorded altitude range
3m to 700m
Species text
Distribution
Bradford, in west Yorkshire, was the first recorded British location for this species (Meade 1855). It is almost as widespread as
Nemastoma bimaculatum
, extending to Shetland, Fair Isle and the Western Isles (but not to Orkney or Lewis), but is much less frequently found and probably under-recorded because of its sombre colour, retiring habits and reluctance to move.
Mitostoma chrysomelas is present across much of Europe including Ireland, France, Italy, Poland, the Balkans, Romania, Bulgaria and Scandinavia.
Habitat and ecology
This is probably the most troglodytic of the British harvestmen, frequently occurring in subterranean cavities but also more generally below stones and logs and in moss, vegetation and litter. It is recorded from the coast to mountain tops, to at least 700m in Britain and 2000m in the Tatra Mountains. It has most frequently been recorded in woodland and grassland, but also occurs in wetland habitats. Its modest chelicerae limit the size of invertebrate prey it can tackle, and the presence of sticky, capitate setae on its palps suggests it may specialise in springtails and other hard-to-catch small invertebrates.
Adults and juveniles are present throughout the year. They are eurychronous i.e. egg laying is not restricted to one period of the year and generations will therefore overlap. Data on lifespan appears to be lacking but this species is not considered to be long-lived.
Status
Widespread.
Text based on: Hillyard, P. D. 2005. Harvestmen: keys and notes for the identification of British species. Synopses of the British Fauna 4 (3rd edn). Field Studies Council, Shrewsbury.
Reference
Meade R. H. 1855. XXXV. Monograph on the British species of Phalangiidae or Harvestmen. Annals & Magazine of Natural History 2nd Series 15(90): 393-416.

References


Adult Season
Adult Season Data (based on 110 records with adult season information)
Habitats
background methodology
Broad Habitat Data (based on 309 records with habitat information)
Broad subhabitat Data (based on 29 records with subhabitat information)
Structural Habitat Data (based on 212 records with structural habitat information)
Habitat Detail and Method (based on 239 records with habitat detail and method information)
Recorded management for locations with Mitostoma chrysomelas
Recorded substrate and hydrology for locations with Mitostoma chrysomelas


Images
upload a new image
for this species
See also A-Z Species Index - A-Z Picture Index - previous species | next species