Summary for Odiellus spinosus (Opiliones)
previous species | next species
National Distribution
Logged-on? click on dot to query records. Please note our
Terms of Use
. Double-click on map to go to region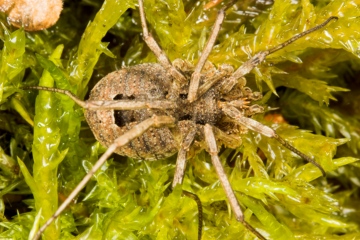 Identification difficulty rating:
2
Name: Odiellus spinosus
Authority: (Bosc, 1792)
Order: Arachnida: Opiliones
Family: Phalangiidae
Records: 693
First Record: 1890
Latest Record: 2022
1992-on hectads: 166
Pre-1992 hectads: 107
Total hectads: 238
Explore
Regional Distribution
View notes or log on and add a note on this species
About this species
Recorded altitude range
0m to 247m
Species text
Distribution
Although listed by Meade (1855), the first authenticated British record of
Odiellus spinosus
appears to be by Pickard-Cambridge (1890) from Corfe Castle in Dorset. The species is common and widespread in the south and east of England but is gradually expanding its range north, and has now reached Wales, Lancashire, Yorkshire, Cumbria and, in 2017, Orkney. Owen (1991) shows that of 10 species of harvestmen recorded in an English garden over a 10 year period in the 1980s,
O. spinosus
was consistently by far the most abundant species.
In Europe its range includes Portugal, Spain, Corsica, France, Belgium, the Netherlands, Germany, Switzerland, Italy, Slovenia and Croatia (Wijnhoven 2009).
Habitat and ecology
Odiellus spinosus has been found up to 135m altitude in Britain and Hillyard (2005) notes that it generally avoids high ground. This is a ground-living species which ascends vegetation and walls. It can be abundant in parks, gardens, brown-field sites and around buildings and on walls and may form small aggregations. Wijnhoven (2009) notes its preference for hot, dry sites, suggesting that its natural habitat may be open heath and dune.
Hillyard (2005) reports that the eggs hatch in June and that individuals mature around August, surviving until the end of the year. British data shows adult records from June to November.
Surprisingly, information on the food of O. spinosus is sparse. Sankey (1949) notes spiders and a mite being eaten but also records that the harvestmen themselves are eaten by hedgehogs!
Status
Introduced, established and spreading north.
Text based on: Hillyard, P. D. 2005. Harvestmen: keys and notes for the identification of British species. Synopses of the British Fauna 4 (3rd edn). Field Studies Council, Shrewsbury.
References
Meade R. H. 1855. XXXV. Monograph on the British species of Phalangiidae or Harvestmen. Annals & Magazine of Natural History 2nd Series 15 (90): 393-416.
Owen, J. 1991. The ecology of a garden. Cambridge University Press, Cambridge.
Pickard-Cambridge, O. 1890. Monograph of the British Phalangidea or harvestmen. Proceedings of the Dorset Natural History and Antiquarian Field Club, Sherborne/Dorchester 11: 163-216.
Sankey, J. H. P. 1949. Observations on food, enemies and parasites of British harvest-spiders (Arachnida, Opiliones). Entomologists' Monthly Magazine 85: 246-247.
Wijnhoven, H. 2009. De Nederlandse hooiwagens (Opiliones) Naturalis Biodiversity Centre - Entomologische Tabellen, The Netherlands. (translation available here: http://srs.britishspiders.org.uk/portal/p/Harvestman+Resources)

References


Adult Season
Adult Season Data (based on 72 records with adult season information)
Habitats
background methodology
Broad Habitat Data (based on 229 records with habitat information)
Broad subhabitat Data (based on 10 records with subhabitat information)
Structural Habitat Data (based on 111 records with structural habitat information)
Habitat Detail and Method (based on 129 records with habitat detail and method information)
Recorded management for locations with Odiellus spinosus
Recorded substrate and hydrology for locations with Odiellus spinosus


Images
upload a new image
for this species
See also A-Z Species Index - A-Z Picture Index - previous species | next species