Summary for Oonops domesticus (Araneae)
previous species | next species
National Distribution
Logged-on? click on dot to query records. Please note our
Terms of Use
. Double-click on map to go to region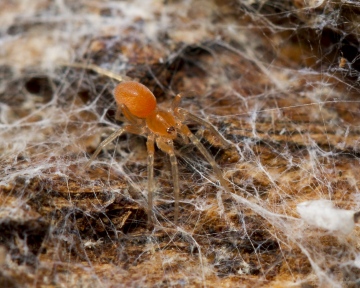 Identification difficulty rating:
3
Name: Oonops domesticus
Authority: de Dalmas, 1916
Order: Arachnida: Araneae
Family: Oonopidae
IUCN status: LC

Records: 425
First Record: 1900
Latest Record: 2020
1992-on hectads: 87
Pre-1992 hectads: 77
Total hectads: 146
Explore
Regional Distribution
Please log on and add a note on this species
About this species
Recorded altitude range
1m to 280m
Species text
Distribution
The species is widely distributed in southern Britain as far north as Lancashire and Yorkshire, but with only two records in Scotland. It is widespread in western Europe but is not recorded from Austria or Scandinavia north of Denmark.
Habitat and ecology
It is almost confined to houses and other warm buildings but Ian Dawson has found it outside in March in the stiff leaves of a yucca. The small size and nocturnal habits of Oonops domesticus enables it to live almost unnoticed in houses. Being an active hunter with slow, positive movements, interspersed with short, fast dashes and pauses, it can be found on ceilings and walls after dark as it seeks a mate or prey. During the daytime it remains concealed in a silken cell. Batches of two eggs are laid and there are probably several such batches of pink eggs which are visible through the wall of the sac. Adults of both sexes are probably to be found at all times of the year.
Status
Synanthropic but scarce. The spider is probably under-recorded due to its small size and nocturnal habits.
Original author of profile: R. Ruffell
Text based on Harvey, P.R., Nellist, D.R. & Telfer, M.G. (eds) 2002. Provisional atlas of British spiders (Arachnida, Araneae), Volumes 1 & 2. Huntingdon: Biological Records Centre. References


Adult Season
Adult Season Data (based on 90 records with adult season information)
Habitats
background methodology
Broad Habitat Data (based on 160 records with habitat information)
no subhabitat data available
Structural Habitat Data (based on 2 records with structural habitat information)
Habitat Detail and Method (based on 38 records with habitat detail and method information)
Recorded management for locations with Oonops domesticus
Recorded substrate and hydrology for locations with Oonops domesticus


Images
upload a new image
for this species
See also A-Z Species Index - A-Z Picture Index - previous species | next species