Summary for Pardosa paludicola (Araneae)
previous species | next species
National Distribution
Logged-on? click on dot to query records. Please note our
Terms of Use
. Double-click on map to go to region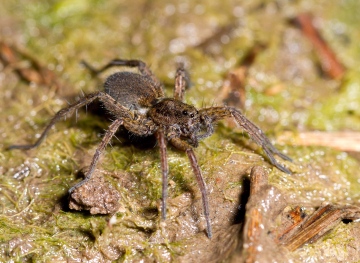 Identification difficulty rating:
4
Name: Pardosa paludicola
Authority: (Clerck, 1757)
Order: Arachnida: Araneae
Family: Lycosidae
National Rarity status: NR

IUCN status: EN, criteria: B2ab(ii,iv)

Records: 33
First Record: 1800
Latest Record: 2020
1992-on hectads: 4
Pre-1992 hectads: 6
Total hectads: 9
Explore
Regional Distribution
Please log on and add a note on this species
About this species
Recorded altitude range
3m to 30m
Species text
Distribution
The species has been recorded from Merryfield (RNAS), Ilton, South Somerset; Shapwick Heath and Catcott Heath, North Somerset; Parkhurst Forest, Isle of Wight; Plaistow, West Sussex; Cudham, West Kent; Woodwalton Fen, Huntingdonshire; Tarrington, Herefordshire. It is fairly widespread in north-western and central Europe.
Habitat and ecology
P. paludicola has been recorded from grassy clearings in woods, running on peat near trees in fens, and among grass near a pond. It may require moderately long grass or herbage. Males are adult in late March and April, and females have been found in April and May. Both sexes have also been found in November, and some individuals may mature in late autumn and over-winter.
Status
The spider was apparently fairly numerous at Shapwick Heath, Plaistow and Woodwalton Fen, but the only recent records are from Woodwalton Fen and a single female from Merryfield (RNAS), Ilton.
Threats
Shapwick Heath has been very severely damaged by peat extraction, even within the National Nature Reserve, and only a small area of the wet heath remains. Although the original area may no longer exist, there are likely to be other similar areas there. Falling water tables due to agricultural drainage are a problem in the Somerset Levels sites and at Woodwalton Fen. It is difficult to maintain a high water table on the protected areas when the surrounding fields are being drained. The Great Fen Project aims to link up Woodwalton and Holme Fens, thus expanding and restoring the limited area of fenland in Huntingdonshire: several areas of arable have already been purchased.
Management and conservation
Ensure maintenance of high water tables in its known sites.
Text based on Dawson, I.K., Harvey, P.R., Merrett, P. & Russell-Smith, A.R. (in prep.). References


Adult Season
Adult Season Data (based on 14 records with adult season information)
Habitats
background methodology
Broad Habitat Data (based on 7 records with habitat information)
no subhabitat data available
Structural Habitat Data (based on 5 records with structural habitat information)
Habitat Detail and Method (based on 2 records with habitat detail and method information)
Recorded management for locations with Pardosa paludicola
Recorded substrate and hydrology for locations with Pardosa paludicola


Images
upload a new image
for this species
See also A-Z Species Index - A-Z Picture Index - previous species | next species