Summary for Paroligolophus agrestis (Opiliones)
previous species | next species
National Distribution
Logged-on? click on dot to query records. Please note our
Terms of Use
. Double-click on map to go to region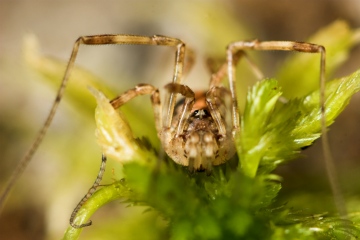 Identification difficulty rating:
2
Name: Paroligolophus agrestis
Authority: (Meade, 1855)
Order: Arachnida: Opiliones
Family: Phalangiidae
Records: 6337
First Record: 1878
Latest Record: 2022
1992-on hectads: 797
Pre-1992 hectads: 1060
Total hectads: 1591
Explore
Regional Distribution
Please log on and add a note on this species
About this species
Recorded altitude range
0m to 497m
Species text
Distribution
Paroligolophus agrestis
was first described by Meade (1855) from British material. It occurs throughout the British Isles and is very common, extending north to the Hebrides and Orkney, but not Shetland.
Its European range includes northern Spain, France, Luxembourg, Belgium, the Netherlands, Poland, Germany, Denmark, Norway and Sweden. It has also been introduced into North America with records from Washington State and British Columbia (Bragg & Holmberg 1975).
Habitat and ecology
Hillyard (2005) considered this to be the most common and abundant species of harvestman in the British Isles, although in the HRS records it now ranks 2nd behind Mitopus morio. It occurs in a wide range of habitats from coastal dunes, grassland, woodland, hedgerow, parkland and heathland up to an altitude of 460m. It has been found up to 1300m in the Cantabrian Mountains in Spain (Martens 1978).
Throughout its adult phase, this short-legged species is able to utilise not only the ground layer vegetation but also the tree canopy. Like the other short-legged dendrophile, O. hanseni, it leads a bit of a 'snakes & ladders' life, regularly falling off or being blown out of the higher layers and climbing back up.
Adult males are present from late June early July and eggs are laid in late summer and through the autumn, hatching during the spring. The adults are often seen taking a Christmas holiday walk (even on snow) and can persist through to March. Hillyard (2005) notes that juveniles can persist until September. Curtis (1978) lists adult P. agrestis as being present in all months of the year but with most activity in June and October/November.
Acosta & Machado (in Pinto-da-Rocha et al. 2007) list a wide range of items which P. agrestis has been recorded as eating, including: springtails, aphids, fly and lepidopteran larvae, ants, woodlice, snails and bird droppings.
Status
Very common and widespread.
Text based on: Hillyard, P. D. 2005. Harvestmen: keys and notes for the identification of British species. Synopses of the British Fauna 4 (3rd edn). Field Studies Council, Shrewsbury.
References
Bragg, P. D. & Holmberg, R. G. 1975. Platybunus triangularis and Paroligolophus agrestis: two phalangids introduced to North America. Journal of Arachnology 2: 127.
Curtis, D. J. 1978. Community parameters of the ground layer araneid-opilionid taxocene of a Scottish island. Symposium of the. Zoological Society of London 42: 149-159.
Martens, J. 1978. Spinnentiere, Arachnida: Weberknechte, Opiliones. Die Tierwelt Deutschlands 64: 1-464. Fischer Verlag, Jena.
Meade R. H. 1855. XXXV. Monograph on the British species of Phalangiidae or Harvestmen. Annals & Magazine of Natural History 2nd Series 15: 393-416.
Pinto-da-Rocha, R., Machado, G & Giribet, G. (eds). 2007. Harvestmen: the biology of Opiliones. Harvard University Press, Cambridge MA

References

Account last edited by Meg Skinner at 11:30 on Sat 1st Jan 2022.
Adult Season
Adult Season Data (based on 1521 records with adult season information)
Habitats
background methodology
Broad Habitat Data (based on 2281 records with habitat information)
Broad subhabitat Data (based on 359 records with subhabitat information)
Structural Habitat Data (based on 1815 records with structural habitat information)
Habitat Detail and Method (based on 2213 records with habitat detail and method information)
Recorded management for locations with Paroligolophus agrestis
Recorded substrate and hydrology for locations with Paroligolophus agrestis


Images
upload a new image
for this species
See also A-Z Species Index - A-Z Picture Index - previous species | next species