Summary for Philodromus longipalpis (Araneae)
previous species | next species
National Distribution
Logged-on? click on dot to query records. Please note our
Terms of Use
. Double-click on map to go to region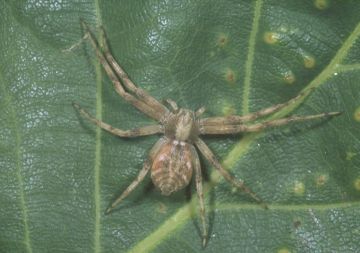 Identification difficulty rating:
5
Name: Philodromus longipalpis
Authority: Simon, 1870
Order: Arachnida: Araneae
Family: Philodromidae
National Rarity status: NS

IUCN status: LC

Records: 74
First Record: 1983
Latest Record: 2022
1992-on hectads: 32
Pre-1992 hectads: 5
Total hectads: 35
Explore
Regional Distribution
Please log on and add a note on this species
About this species
Recorded altitude range
20m to 300m
Species text
Distribution
The species was first collected in Britain at Box Hill in 1985 but remained unidentified until specimens were determined by Hendrik Segers. The spider has been collected from widely scattered sites across southern England.
P. longipalpis
has also been found in material collected in France, Spain, Crete, Turkey and Hungary (Segers 1992) and is included in the checklists for the Netherlands, Germany, Switzerland and Romania.
Habitat and ecology
All adults have been beaten from the lower branches of old oak trees in open situations or on their trunks, but juveniles have been taken from heather at Chobham Common in Surrey and from heather under open oak woodland in the Quantocks, South Somerset and kept in captivity until maturity. Most records have been of singletons. Adults have been collected from mid-May to mid-July. P. longipalpis is very significantly larger than other British species in the P. aureolus group and juveniles have a characteristic reddish coloration. Specimens which may be this species should be retained alive and reared until mature. The difficulty of identification presented by this group means that all records should be confirmed with a voucher specimen verified by an arachnologist familiar with this species and the internal structure of the epigyne of females should be examined dorsally.
Status
Although first recorded in the UK only in 1985, current data suggest this is a rare species. There is increasing doubt over whether what we are calling longipalpis is not an entirely different and possibly currently unrecognised taxon.
Threats
Existing evidence points to a low population density and exacting habitat requirements. Most records are from mature oak trees in open woodland habitat, at the edge of clearings or in hedgerows, often stressed by drought, nutrient deficiency or root damage. This type of habitat is threatened by lack of management resulting in the closure of open woodland, or by the loss of old trees. Where old oak trees occur on land converted to arable or old hedgerows are adjacent to arable fields, the spider is also threatened by the use of pesticides on adjacent crops.
Management and conservation
Ensure woodland management includes open clearings or rides and that ancient trees are protected in both woodland and hedgerows.
Text based on Dawson, I.K., Harvey, P.R., Merrett, P. & Russell-Smith, A.R. (in prep.). References


Adult Season
Adult Season Data (based on 46 records with adult season information)
Habitats
background methodology
Broad Habitat Data (based on 16 records with habitat information)
Broad subhabitat Data (based on 1 records with subhabitat information)
Structural Habitat Data (based on 35 records with structural habitat information)
Habitat Detail and Method (based on 38 records with habitat detail and method information)
Recorded management for locations with Philodromus longipalpis
Recorded substrate and hydrology for locations with Philodromus longipalpis


Images
upload a new image
for this species
See also A-Z Species Index - A-Z Picture Index - previous species | next species