Summary for Philodromus margaritatus (Araneae)
previous species | next species
National Distribution
Logged-on? click on dot to query records. Please note our
Terms of Use
. Double-click on map to go to region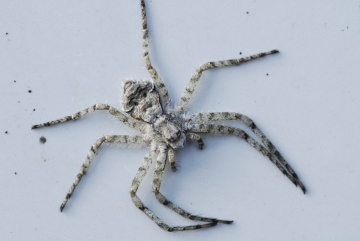 Identification difficulty rating:
3
Name: Philodromus margaritatus
Authority: (Clerck, 1757)
Order: Arachnida: Araneae
Family: Philodromidae
BAP status: UKBAP

National Rarity status: NR

IUCN status: NT

Records: 95
First Record: 1890
Latest Record: 2022
1992-on hectads: 20
Pre-1992 hectads: 12
Total hectads: 28
Explore
Regional Distribution
Please log on and add a note on this species
About this species
Recorded altitude range
20m to 334m
Species text
Distribution
The species is known from scattered localities in the south of England and central Scotland. It is widespread in western and central Europe, but has not been recorded from Ireland.
Habitat and ecology
P. margaritatus occurs on trunks of trees, both pines and broad-leaved, especially when these are covered with lichens. It has also been found on electricity pylons near pine trees and sometimes in gardens on apple trees, etc. It is variable in colour, and camouflaged to resemble lichen on which it sits. Adults are found in May and June.
Status
UK Biodiversity Action Plan priority species. The spider is very local, and although it has excellent camouflage its microhabitat would be searched by arachnologists. It appears to have undergone long-term decline.
Threats
The felling of old, lichen-covered trees and degradation of habitat supporting these.
Management and conservation
Ensure that old lichen covered trees are given adequate protection, and at sites where they occur a succession of younger trees is provided to replace them when they eventually die.
Text based on Dawson, I.K., Harvey, P.R., Merrett, P. & Russell-Smith, A.R. (in prep.). References


Adult Season
Adult Season Data (based on 45 records with adult season information)
Habitats
background methodology
Broad Habitat Data (based on 24 records with habitat information)
Broad subhabitat Data (based on 2 records with subhabitat information)
Structural Habitat Data (based on 18 records with structural habitat information)
Habitat Detail and Method (based on 26 records with habitat detail and method information)
Recorded management for locations with Philodromus margaritatus
Recorded substrate and hydrology for locations with Philodromus margaritatus


Images
upload a new image
for this species
See also A-Z Species Index - A-Z Picture Index - previous species | next species