Summary for Porrhomma convexum (Araneae)
previous species | next species
National Distribution
Logged-on? click on dot to query records. Please note our
Terms of Use
. Double-click on map to go to region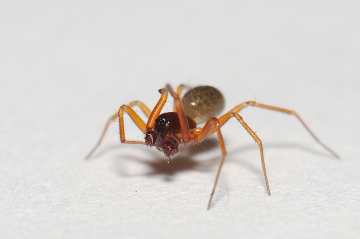 Identification difficulty rating:
4
Name: Porrhomma convexum
Authority: (Westring, 1851)
Order: Arachnida: Araneae
Family: Linyphiidae
National Rarity status: NS

IUCN status: LC

Watching Brief: Amber

Records: 296
First Record: 1912
Latest Record: 2021
1992-on hectads: 62
Pre-1992 hectads: 116
Total hectads: 172
Explore
Regional Distribution
Identification guidance for Porrhomma convexum
View notes or log on and add a note on this species
About this species
Recorded altitude range
0m to 900m
Species text
Distribution
P. convexum is widespread but scattered in much of England and Wales, but widely scattered elsewhere. A Palaearctic species widespread in north-western and central Europe.
Habitat and ecology
Typically this spider is found within damp mines and caves where it constructs a small web within recesses in the rock. P. convexum can also be found in damp culverts, cellars, beneath rock piles, amongst thick undergrowth and within sewage filter beds (Crocker & Daws 1996; Locket & Millidge 1953; Bristowe 1958). Adults may be found throughout the year. Single egg-sacs are affixed to the rock surface and have been noted in November.
Status
The species may have suffered long-term decline throughout its range, but may be frequent where it does occur. Some older records may have been misidentified.
Threats
Given the apparent broad range of subterranean habitats utilised by this species, it is difficult to understand the reason for its apparent recent decline.
Management and conservation
Further research is needed to determine the micro-habitat requirements and ecology of this species. Until this is undertaken, destruction or disturbance of the subterranean habitats where it occurs, natural and man-made, should be prevented.
Text based on Dawson, I.K., Harvey, P.R., Merrett, P. & Russell-Smith, A.R. (in prep.). References


Adult Season
Adult Season Data (based on 56 records with adult season information)
Habitats
background methodology
Broad Habitat Data (based on 112 records with habitat information)
Broad subhabitat Data (based on 7 records with subhabitat information)
Structural Habitat Data (based on 26 records with structural habitat information)
Habitat Detail and Method (based on 35 records with habitat detail and method information)
Recorded management for locations with Porrhomma convexum
Recorded substrate and hydrology for locations with Porrhomma convexum


Images
upload a new image
for this species
See also A-Z Species Index - A-Z Picture Index - previous species | next species