Summary for Pseudeuophrys erratica (Araneae)
previous species | next species
National Distribution
Logged-on? click on dot to query records. Please note our
Terms of Use
. Double-click on map to go to region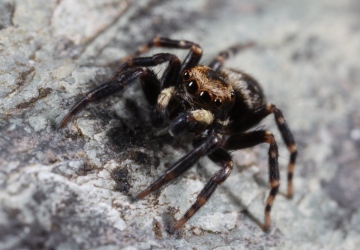 Identification difficulty rating:
3
Name: Pseudeuophrys erratica
Authority: (Walckenaer, 1826)
Order: Arachnida: Araneae
Family: Salticidae
National Rarity status: NS

IUCN status: LC

Records: 293
First Record: 1861
Latest Record: 2021
1992-on hectads: 45
Pre-1992 hectads: 68
Total hectads: 101
Explore
Regional Distribution
Please log on and add a note on this species
About this species
Recorded altitude range
0m to 497m
Species text
Distribution
The species is widely but locally distributed in western and northern Britain. It is rare or absent from most of southern and eastern England. It is widespread in western and central Europe, but has not been recorded from the Netherlands.
Habitat and ecology
P. erratica occurs on walls and amongst stones. In Leicestershire it has been found in rugged heathland, scrubby acid grassland and ancient deer parks with over-mature oak trees, in each case with bracken a dominant feature of the habitat. The spiders have been observed stalking prey on rock surfaces and on an oak stump in bright sunshine, and they have also been collected from dead wood and under bark of old oak trees, under stones and in leaf litter (Crocker & Daws 1996). It also occurs on the trunks of Scots Pine in native Caledonian pine forest. Adults of both sexes are found from late spring to late summer, but mainly in May and June, with females occasionally recorded into the autumn.
Status
The species seems to have suffered a long-term decline of over 60%.
Threats
Loss of old stone field walls in upland areas may present a threat to this species as does planting of acid upland grasslands with conifers but the reasons for the decline in this species are not obvious as the habitat does not seem to be threatened.
Management and conservation
Protect and maintain stone field walls in upland areas. Ensure that acid grassland and moorlands are not replaced by conifer plantations. More focused research on the ecology of this species is needed to address its conservation needs.
Text based on Dawson, I.K., Harvey, P.R., Merrett, P. & Russell-Smith, A.R. (in prep.). References

Account last edited by Helen Smith at 20:15 on Fri 9th Dec 2016.
Adult Season
Adult Season Data (based on 101 records with adult season information)
Habitats
background methodology
Broad Habitat Data (based on 90 records with habitat information)
Broad subhabitat Data (based on 7 records with subhabitat information)
Structural Habitat Data (based on 69 records with structural habitat information)
Habitat Detail and Method (based on 85 records with habitat detail and method information)
Recorded management for locations with Pseudeuophrys erratica
Recorded substrate and hydrology for locations with Pseudeuophrys erratica


Images
upload a new image
for this species
See also A-Z Species Index - A-Z Picture Index - previous species | next species