Summary for Pseudeuophrys obsoleta (Araneae)
previous species | next species
National Distribution
Logged-on? click on dot to query records. Please note our
Terms of Use
. Double-click on map to go to region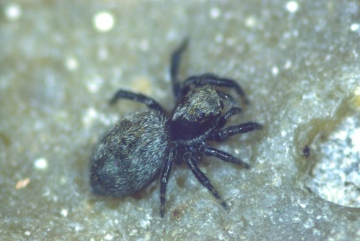 Identification difficulty rating:
4
Name: Pseudeuophrys obsoleta
Authority: (Simon, 1868)
Order: Arachnida: Araneae
Family: Salticidae
BAP status: UKBAP

National Rarity status: NS

IUCN status: LC

Records: 161
First Record: 1800
Latest Record: 2017
1992-on hectads: 13
Pre-1992 hectads: 11
Total hectads: 16
Explore
Regional Distribution
Please log on and add a note on this species
About this species
Recorded altitude range
0m to 5m
Species text
Distribution
Apparently restricted to shingle beaches in the south-east, the species has been recorded from Blakeney Point, East Norfolk; Orford Beach and Shingle Street, East Suffolk; Colne Point and Walton Naze, North Essex; Bradwell, South Essex; Lydd Ranges and near Faversham, East Kent; and Rye Harbour, East Sussex, all since 1953.
Habitat and ecology
P. obsoleta occurs among tide litter, in empty whelk shells and in the open on shingle. Adults of both sexes are found from April to June and from August to October.
Status
UK Biodiversity Action Plan priority species. The spider is numerous at some sites, for example Bradwell, Colne Point and Shingle Street.
Threats
Public pressure, causing erosion by trampling, may degrade its sites and holiday development may be a threat outside nature reserves. The use of vehicles on shingle, as at Lydd Ranges, causes irreversible disruption to the habitat. Shingle erosion may also be a threat.
Management and conservation
Protection of important shingle sites from exploitation for gravel and excessive damage by vehicles is needed.
Text based on Dawson, I.K., Harvey, P.R., Merrett, P. & Russell-Smith, A.R. (in prep.). References


Adult Season
Adult Season Data (based on 68 records with adult season information)
Habitats
background methodology
Broad Habitat Data (based on 51 records with habitat information)
no subhabitat data available
Structural Habitat Data (based on 48 records with structural habitat information)
Habitat Detail and Method (based on 41 records with habitat detail and method information)
Recorded management for locations with Pseudeuophrys obsoleta
Recorded substrate and hydrology for locations with Pseudeuophrys obsoleta


Images
upload a new image
for this species
See also A-Z Species Index - A-Z Picture Index - previous species | next species