Summary for Scotolemon doriae (Opiliones)
National Distribution
Logged-on? click on dot to query records. Please note our
Terms of Use
. Double-click on map to go to region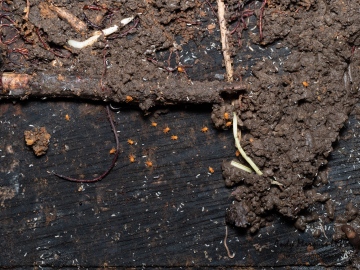 Identification difficulty rating:
5
Name: Scotolemon doriae
Authority: Pavesi, 1878
Order: Arachnida: Opiliones
Family: Phalangodidae
Records: 8
First Record: 2016
Latest Record: 2018
1992-on hectads: 2
Pre-1992 hectads: 0
Total hectads: 3
Explore
Regional Distribution
Please log on and add a note on this species
About this species
Recorded altitude range
30m to 30m
Species text
Distribution
This species was first recorded in Britain on 31st December 2017 in a cemetery in Plymouth (Bilton, 2018a). It has since been recorded at one location in Guernsey on three separate occasions in 2020 (January, February and November). For each of these Guernsey sightings, large numbers were recorded each time, with estimates of up to 500 individuals.
This species appears to be native to the northern Mediterranean area. It was first recorded in Italy, and also has been found in Sardinia, Sicily, Corsica and southern France. Beyond this area, it has turned up in Paris and has recently been found in woodlands in north-western France (Iorio & Racine 2017, Bilton 2018b, Martens 1978).
Habitat and ecology
At its Plymouth locality, this species was found on the underside of stones, embedded in the soil but overlying small cavities. Similarly, in Guernsey groups of individuals were recorded by overturning embedded logs and stones in saturated ground. It is considered that it only comes near the soil surface when the relative humidity is high and presumably retreats to lower levels in drier conditions.
Status
Considered to be an introduction (Bilton 2018b). Inconspicuous (small and mite-like) and possibly overlooked elsewhere.
References
Bilton, D. 2018a. Scotolemon doriae Pavesi, 1878 in Britain. Spider Recording Scheme News, 90 In: Newsletter of the British Arachnological Society 141: 17.
Bilton, D. 2018b. Scotolemon doriae Pavesi, 1878 – a soil-dwelling harvestman new to Britain (Opiliones: Phalangodidae). In press.
Iorio, E.& Racine, A. 2017. Première observation de Scotolemon doriae Pavesi, 1878 dans le Massif armoricain (Opiliones, Phalangodidae). Revue arachnologique 4: 41-45.
Martens, J. 1978. Spinnentiere, Arachnida: Weberknechte, Opiliones. Die Tierwelt Deutschlands 64: 1-464. Fischer Verlag, Jena. References

Account last edited by Meg Skinner at 11:53 on Wed 17th Feb 2021.
Adult Season
Adult Season Data (based on 3 records with adult season information)
Habitats
background methodology
Broad Habitat Data (based on 2 records with habitat information)
no subhabitat data available
Structural Habitat Data (based on 10 records with structural habitat information)
Habitat Detail and Method (based on 10 records with habitat detail and method information)
Recorded management for locations with Scotolemon doriae
Recorded substrate and hydrology for locations with Scotolemon doriae


Images
upload a new image
for this species
See also A-Z Species Index - A-Z Picture Index - | next species