Summary for Segestria bavarica (Araneae)
previous species | next species
National Distribution
Logged-on? click on dot to query records. Please note our
Terms of Use
. Double-click on map to go to region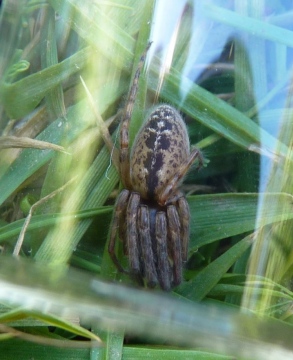 Identification difficulty rating:
3
Name: Segestria bavarica
Authority: C.L.Koch, 1843
Order: Arachnida: Araneae
Family: Segestriidae
National Rarity status: NR

IUCN status: LC

Records: 104
First Record: 1900
Latest Record: 2022
1992-on hectads: 19
Pre-1992 hectads: 15
Total hectads: 28
Explore
Regional Distribution
Please log on and add a note on this species
About this species
Recorded altitude range
10m to 130m
Species text
Distribution
This species is restricted to coastal regions of south west Britain, apart from records in North Wales from Puffin Island off Anglesey (Davies 1995) and the Great and Little Orme (Gallon 2001b). S. bavarica is widespread in western and central Europe, but not recorded from Ireland and only Sweden in Scandinavia.
Habitat and ecology
S. bavarica is confined to coastal regions where it can be found in cracks within rock outcrops or old walls. This species takes at least two years to reach maturity with adult males occurring over spring and summer whilst mature females can live for several years.
Status
There does not appear to be significant decline but very local in distribution.
Threats
There appear to be no major threats except for a limited amount of quarrying of cliff faces.
Management and conservation
Limit potential quarrying of cliffs.
Text based on Dawson, I.K., Harvey, P.R., Merrett, P. & Russell-Smith, A.R. (in prep.). References


Adult Season
Adult Season Data (based on 51 records with adult season information)
Habitats
background methodology
Broad Habitat Data (based on 21 records with habitat information)
Broad subhabitat Data (based on 1 records with subhabitat information)
Structural Habitat Data (based on 5 records with structural habitat information)
Habitat Detail and Method (based on 12 records with habitat detail and method information)
Recorded management for locations with Segestria bavarica
Recorded substrate and hydrology for locations with Segestria bavarica


Images
upload a new image
for this species
See also A-Z Species Index - A-Z Picture Index - previous species | next species