Summary for Sitticus pubescens
|
National Distribution
Logged-on? click on dot to query records. Please note our
Terms of Use
. Double-click on map to go to region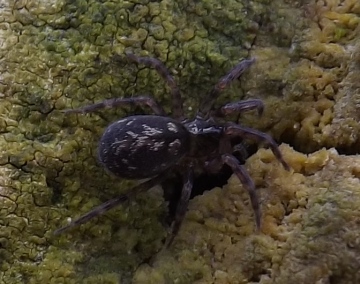 Name: Hypositticus pubescens
Authority: (Fabricius, 1775)
Order: Arachnida: Araneae
Family: Salticidae
1992-on hectads: 0
Pre-1992 hectads: 0
Total hectads: 0
Explore
Regional Distribution
Please log on and add a note on this species
About this species
Recorded altitude range
Species text
Distribution
The species is widespread in much of England and parts of Wales. It is also recorded from the Isle of Skye (Merrett 1989) and Midlothian (Merrett 2000). S. pubescens is widespread in western and central Europe.
Habitat and ecology
S. pubescens is usually found in association with human habitation, on walls, window frames, fences and sometimes indoors but tending to prefer outdoor situations in full sunshine. It is occasionally found on fence posts, tree trunks, underneath stones and on heather away from houses and other buildings (Roberts 1995; Crocker & Daws 1996). Mature females can be found throughout the year and males have been recorded between March and October, but adults of both sexes are found mainly in May and June.
Status
The spider is locally dispersed throughout its range. A marked decline associated with an increase in Euophrys lanigera is pointed out in Merrett (1979) and a marked decline nationally since the early 1970s is also noted in Crocker & Daws (1996).
Original author of profile: E.L. Bee
Text based on Harvey, P.R., Nellist, D.R. & Telfer, M.G. (eds) 2002. Provisional atlas of British spiders (Arachnida, Araneae), Volumes 1 & 2. Huntingdon: Biological Records Centre. References


Adult Season
no detailed adult season data available
Habitats
background methodology
no broad habitat data available
no subhabitat data available
no structural habitat data available
no habitat detail or method data available
Recorded management for locations with Sitticus pubescens
Recorded substrate and hydrology for locations with Sitticus pubescens


Images
upload a new image
for this species
See also A-Z Species Index - A-Z Picture Index - |