Summary for Zodarion fuscum (Araneae)
previous species | next species
National Distribution
Logged-on? click on dot to query records. Please note our
Terms of Use
. Double-click on map to go to region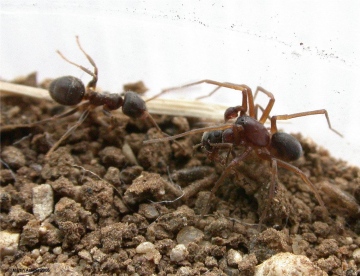 Identification difficulty rating:
4
Name: Zodarion fuscum
Authority: (Simon, 1870)
Order: Arachnida: Araneae
Family: Zodariidae
National Rarity status: NR

IUCN status: VU, criteria: D2

Records: 35
First Record: 1997
Latest Record: 2021
1992-on hectads: 6
Pre-1992 hectads: 0
Total hectads: 6
Explore
Regional Distribution
Please log on and add a note on this species
About this species
Recorded altitude range
2m to 2m
Species text
Distribution
The species was first found south of Swindon, Wiltshire in 1997. It is also found in southern France and northern Spain (Askins 1999).
Habitat and ecology
Z. fuscum has been found under stones on an embankment, under loose mortar at a brick bridge and platform, and in clinker (Askins 1999). More recently it has been found on brownfield land in Nottingham and on shingle near Cardiff in S. Wales Wales (J. Harper, pers. comm.). The species presumably needs a relatively warm habitat. In Wiltshire, it has been found in situations well exposed to the sun, where there are plenty of bare surfaces and gaps between stones, gravel, etc. which provide refuges at all the sites. It seems that females may be adult all year, males in June.
Status
The spider has been recorded in numbers from three locations since 1992; a disused railway line in Wiltshire, coastal shingle in Glamorgan, and a brownfield site in Nottingham, which has probably been lost to development
Threats
The Nottingham brownfield site has probably been lost to development and disturbance is a threat to coastal shingle habitat.
Management and conservation
At shingle sites damage from disturbance should be avoided. On other sites it is likely that open sunny habitats will need to be maintained by periodic control of scrub and tree invasion. Occasional disturbance to expose areas of bare ground is likely to be beneficial.
Text based on Dawson, I.K., Harvey, P.R., Merrett, P. & Russell-Smith, A.R. (in prep.). References


Adult Season
Adult Season Data (based on 16 records with adult season information)
Habitats
background methodology
Broad Habitat Data (based on 11 records with habitat information)
Broad subhabitat Data (based on 1 records with subhabitat information)
Structural Habitat Data (based on 2 records with structural habitat information)
Habitat Detail and Method (based on 16 records with habitat detail and method information)
Recorded management for locations with Zodarion fuscum
Recorded substrate and hydrology for locations with Zodarion fuscum


Images
upload a new image
for this species
See also A-Z Species Index - A-Z Picture Index - previous species | next species